Our simple ways to make a bedroom look more luxurious can help to bring a luxe, hotel-like quality to your sleep space, elegantly elevating the room to feel more special, stylish, and expensive.
When creating a luxury bedroom, you don't always have to have a big budget, sometimes the smallest and simplest of design changes can have a magnificent impact.
From the power of a beautiful piece of art, to carefully choosing the right bedding and color scheme, there are so many creative and easy decor trends that can make your home look more luxurious – these are six of our favorite ideas for creating a beautiful bedroom.
Add a layer of luxury to your bedroom with our six simple decorating ideas
A deeply personal space where we fully relax and recharge, who wouldn't want their bedroom ideas to feel wonderfully luxurious?
To help you create the dream bedroom scheme, we've asked a collection of interior designers to share their favorite easy decorating ideas when adding a layer of luxury to a bedroom.
1. Consider your color scheme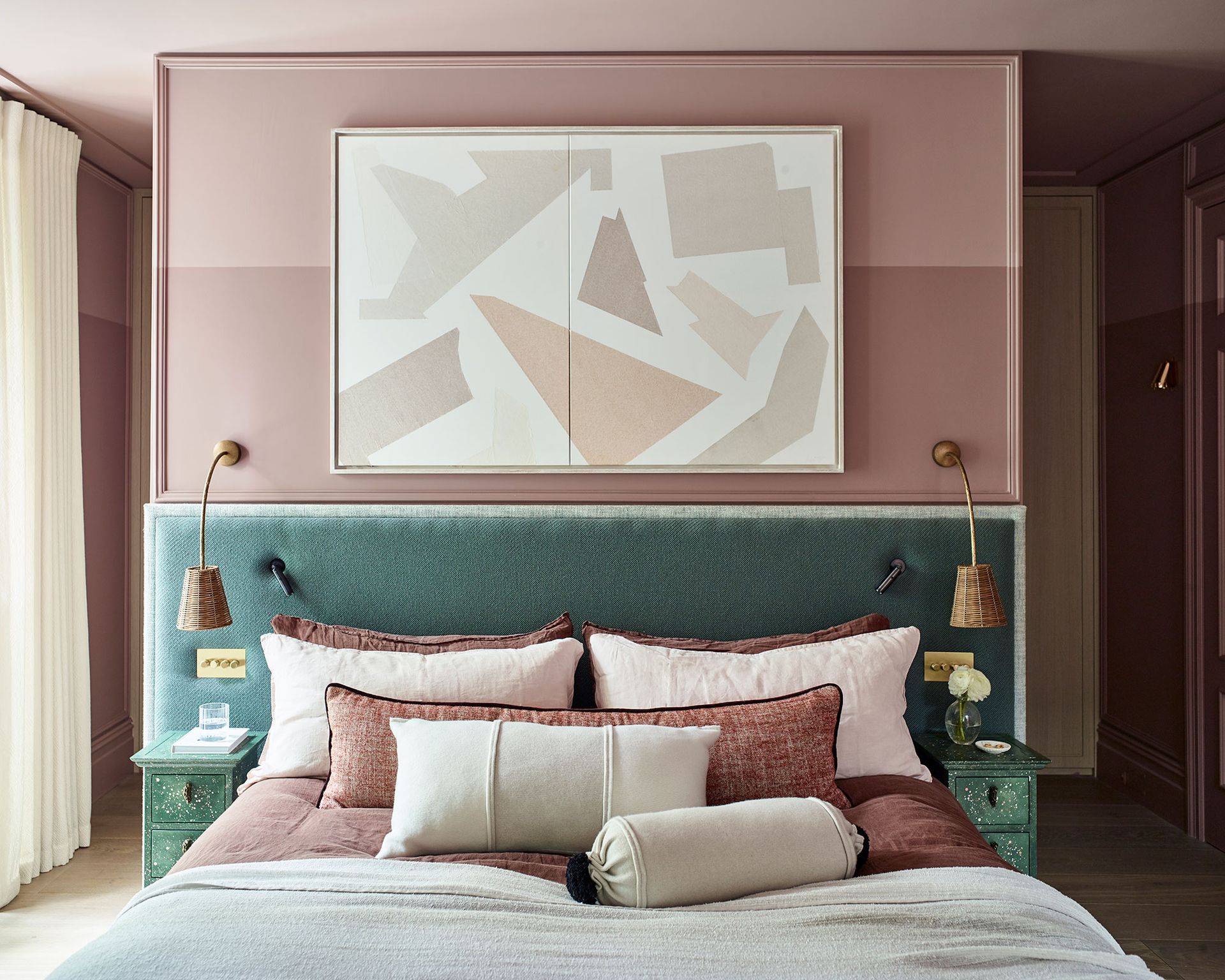 Whether you go big and bold, subtle and minimal, or somewhere in between, choosing bedroom color ideas that fill you with joy and comfort will only make your bedroom feel more inviting, personal, and luxurious.
Gaelle Dudley, color specialist, and founder of GLDESIGN says, 'The first thing I notice when I walk into a bedroom – or any room, really – is the paint color. For me, bedroom paint ideas call for peaceful neutrals, whites, and a soft palette. Sunset hues are also a beautiful way to go to add a touch of luxe and a feeling that you're on vacation year-round. In addition, the colors of the sky are truly breathtaking and always filled with warmth and comfort. From blushes to a dusty rose, you can't go wrong.'
In this pink bedroom designed by Gunter & Co., the velvet blue headboard creates a stylish point of contrast in the pink space, establishing an elegant balance of warm and cool colors. The tonal pink color palette is then further enhanced through the thoughtfully considered artwork and bedding, creating a luxurious look that is perfectly coordinated and well thought-through.
Gaelle Dudley is the founder and creative director of GLDESIGN, an interior design firm based in Fairfield County, Connecticut. Inspired by her childhood in France, New England shorelines, California Dreams and Florida pastels, Gaelle and the GLDESIGN team weave beach living into every client's home.
2. Add a unique touch with wallpaper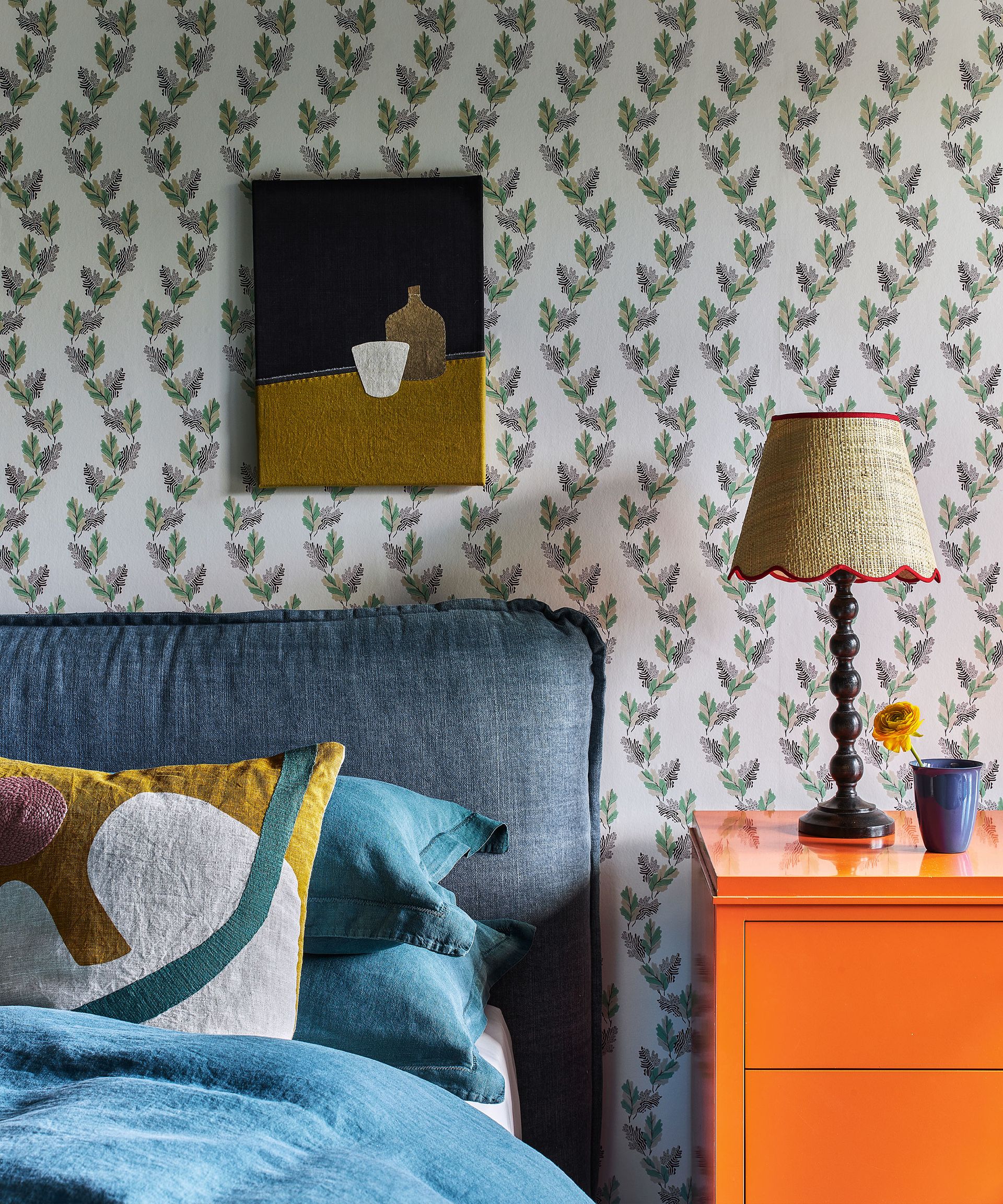 Bedroom wallpaper ideas will always work to bring eye-catching visual interest and unique character to the space and can be a great way to inject a new lease of life and style into the room. 
'Whether you opt for a more traditional pattern or an on-trend mural look, don't shy away from bringing color and pattern into the bedroom with wallpaper. Not only will a hand-drawn, detailed wallpaper give the space a unique, elegant, and luxurious feel, but it will invariably lift your spirits,' says interior designer, Matthew Williamson.
'A benefit of hanging a bold, maximalist wallpaper is that it provides something of a list of color ingredients you can apply to the rest of your space to create a cohesive interior. Pluck colors from the design and use these to choose your soft furnishings and accessories. You can also consider these wallpapers artworks in themselves – the greatest pleasure is that the more you look, the more you'll see,' says Matthew.
For an easy update, use wallpaper ideas in one area of the room, such as behind the bed or on the ceiling, to create an eye-catching bedroom accent wall, rather than wallpapering the whole room.
Matthew Williamson is an award-winning, British interior designer known predominantly for his unique use of pattern and color. Alongside his growing residential and commercial design portfolio, Matthew has also launched a series of homeware collections in collaboration with John Lewis, Pooky, Roome London, Obeetee, and more.
3. Embrace layered lighting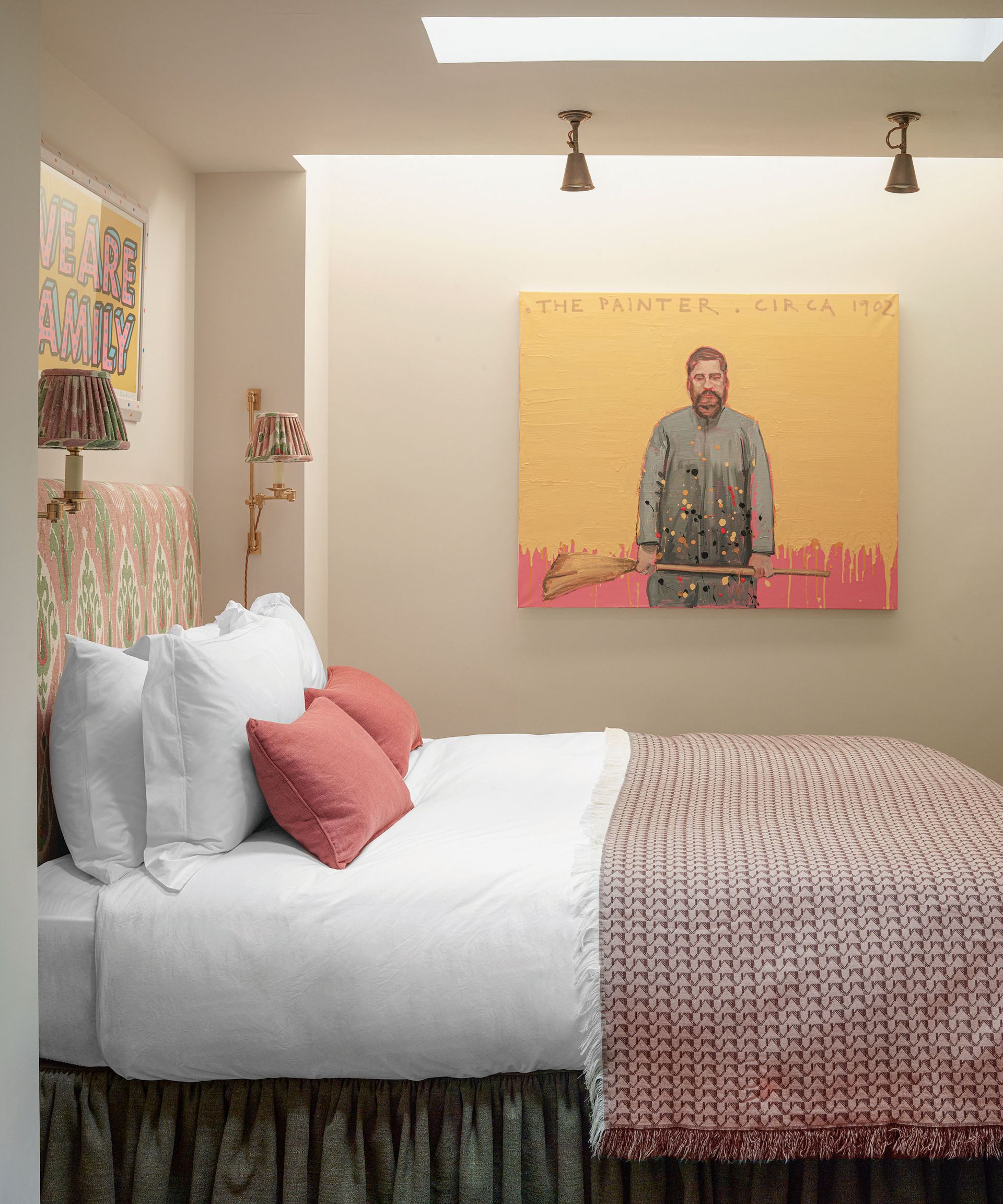 A layered lighting scheme doesn't just mean having multiple pools of light dotted around the room for bedroom lighting ideas, it can also mean incorporating a more luxurious mix of different designs, from functional spotlights to more artistic wall lights and pendants – a beautiful blend of the practical and beautiful will always work to make a room feel more comfortable, usable and stylish.
'Lighting is the jewelry for the home. The look of a space can be immediately elevated by the lighting fixture you choose, becoming the statement piece of the room. A beautiful oversized pendant for example can add wonderful drama and elegance to any space,' says designer Gaelle Dudley.
In this colorful yet calm bedroom, designed by HÁM Interiors, the layered lighting scheme is made up from multiple skylights, spotlights, and stylish wall lamps. We adore the elegant simplicity of this scheme, and how the use of color, lighting and texture effortlessly work together to create an inviting and cozy bedroom space.
4. Choose beautiful bedding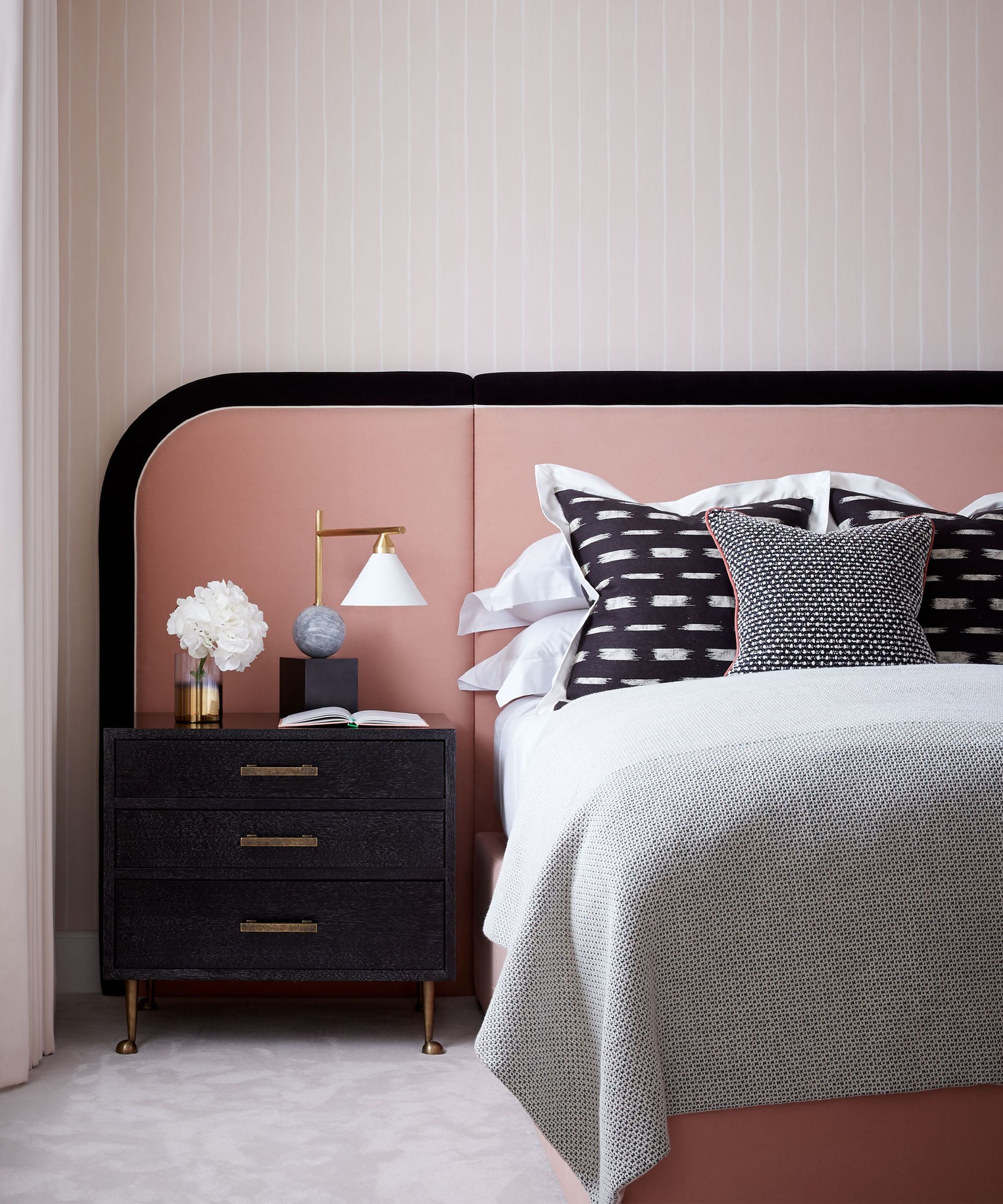 Interior designer Gaelle Dudley says, 'The bed is usually the main focal point of the bedroom so you'll want your bedding to look luxurious – with plush pillows, a beautiful headboard, and one or two great decorative pillows that tie the room together. I love crisp white linen sheets, making me feel like I'm on an endless vacation.' Add a dose of color and tactile texture to your bed with this fringed, velvet Soho Home cushion from Net-a-Porter.
Interior designer Kristina Khersonsky from Studio Keeta also goes on to say how your choice of headboard can make a difference in making your bedroom look more luxurious. 'Upholstered headboards and bed frames are a classic in the bedroom, but opting for an especially textural material like a mohair or high-pile velvet can create a sensory, tactile experience.'
The best bed sheets (we love these striped linen sheets from Piglet in Bed) and a stylish bedframe or headboard can make all the difference in making your bed look more expensive and luxurious.
Los Angeles-based interior designer Kristina Khersonsky is the  principal of interior design studio, STUDIO KEETA. 
5. Create a clutter-free, stylish nightstand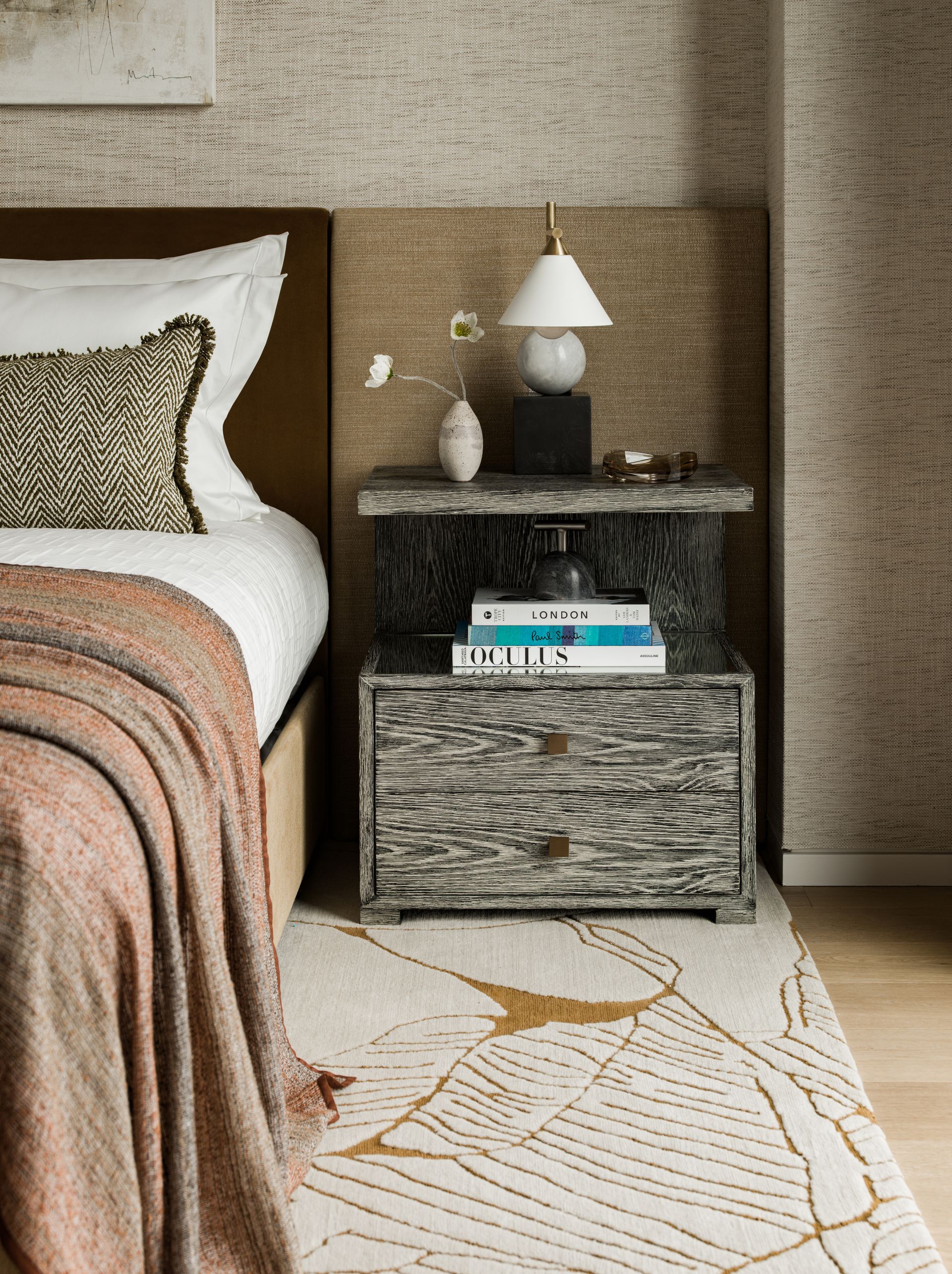 An unorganized, messy bedroom can not only impact the look and feel of your space, but it can also affect your sleep too, and items cluttering your bedside table are often one of the untidiest zones. For a more luxurious look that promotes sleep and relaxation, look to create a clutter-free, streamlined, clutter free nightstand.
Designer Gaelle Dudley says, 'When it comes to bedroom design, selecting the right nightstand is crucial.  Think about your bedtime routine as you select the right table to fit your needs. Are you a reader who may require storage for more than two or three books? Do you need a phone charger or alarm clock? Most importantly, make sure everything is visually appealing. Hide unnecessary clutter away in a drawer and display small items in a beautiful tray. Keeping everything organized and neat is the best way to make a room look more luxurious, clean, and inviting.' We love this elegant red tray from OKA, perfect for zoning items on a nightstand.
6. Add inviting decorative accents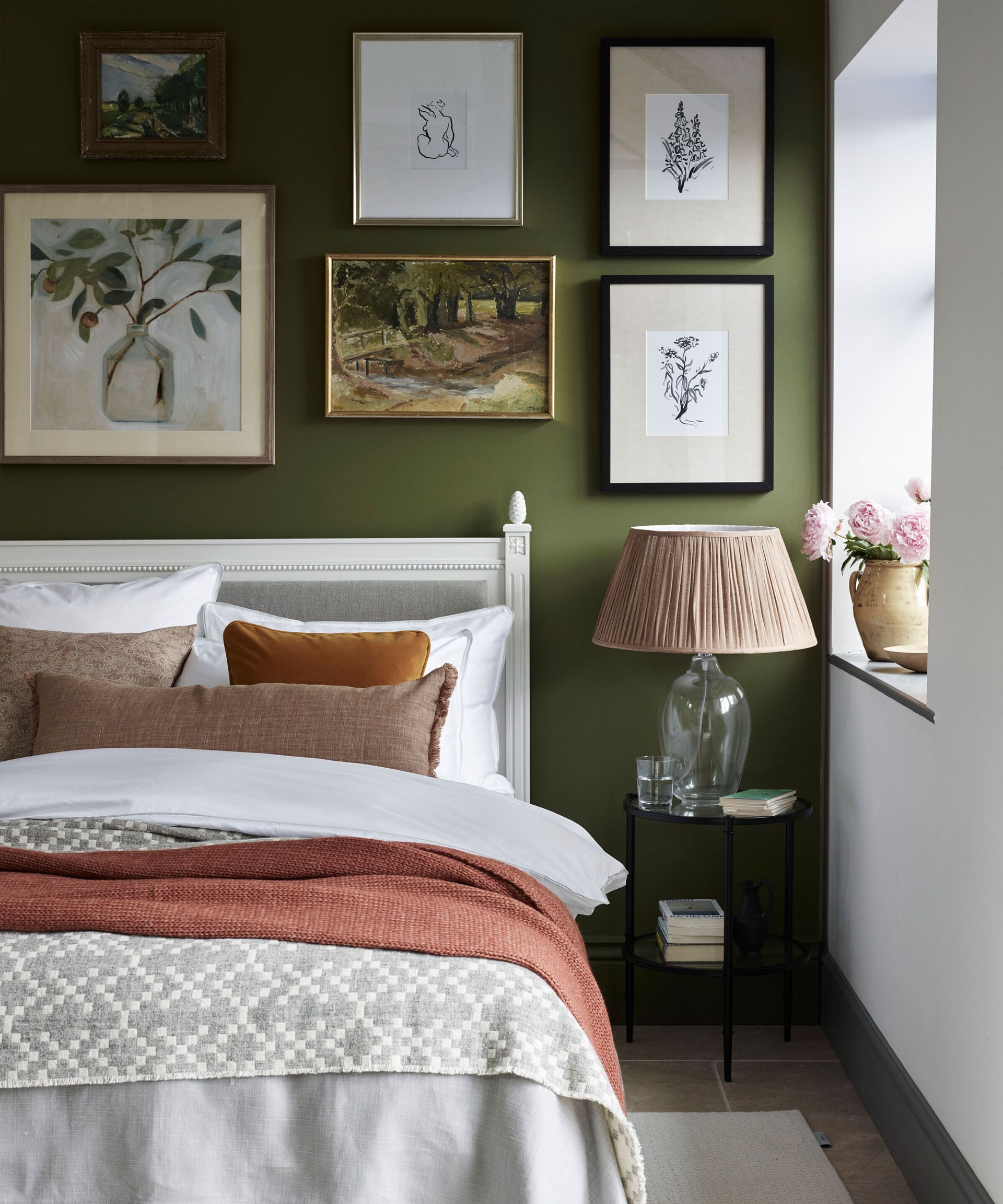 From decorating with art, to bringing in the best indoor plants, ornaments, and bedroom rugs, these decorative accents can make all the difference in making your bedroom feel more luxurious and connected to your personal style, as designer Kristina Khersonsky explains. 
'Items as simple as a unique-shaped plant or bundle of florals in a colorful vase on your nightstand can give that designer-styled bedroom feeling. Something alive in the bedroom is a must for our studio, whether it's fresh, weekly florals or a stationary plant, the presence of some greenery in the main bedroom brings us more ease than we can even begin to imagine.' We love the Muse vase collection from ABC Carpet & Home.
FAQs
How can I decorate my bedroom with simple things?
Just like we have explored in this feature, and how simple items such as plants and flowers can help your bedroom feel more luxurious, often, a simple scheme is best in a sleep space – and that doesn't mean it has to be lacking in character. 
From investing in a beautiful cabinet or shelf for your collection books, to creating an elegant vignette with vases of flowers, candles, and ornaments, it is how you style these simple things in the bedroom that counts. Explore some more of our favorite ideas below:
Decorating with books on shelves, in alcoves and cabinets
Houseplants and flowers, ideal for placing on window ledges, the floor and shelves
Cozy candles 
Artwork and photos 
Beautiful lights 
Stylish bedding, throws and pillows
---
One final way you can make your bedroom look and feel more expensive is through the furniture you choose. From choosing a stand-out, statement headboard, to decorating with antiques and unique vintage finds, your chosen furniture can have a huge impact in the overall look and style of your space. 
Interior designer Naomi Astley Clarke suggests, 'Take removing unnecessary clutter one step further and think about reducing furniture – this will instantly elevate the look and feel of the space. Do you really need that chair that only serves as a clotheshorse – probably not. Not only will your mind be clearer, but you'll have more budget for the important purchases.'