In a world where the climate crisis is ever-evolving, reducing our own carbon footprint has become a priority for many of us, especially at home. Recycling well and installing solar panels will all play a part, but if you did not think that sustainability could be factored into your kitchen remodel, you would be mistaken.
There are, in fact, many big and minor edits you can make to your design plans in order to follow more eco-friendly practices and create a sustainable kitchen that you are proud of.
Eco swaps you might not have thought of when remodeling your kitchen
We asked some home interior experts for their best recommendations when remodeling a kitchen sustainably. Put these into practice alongside your regular eco-home improvements for beautiful, planet-friendly results.
1. Keep longevity in mind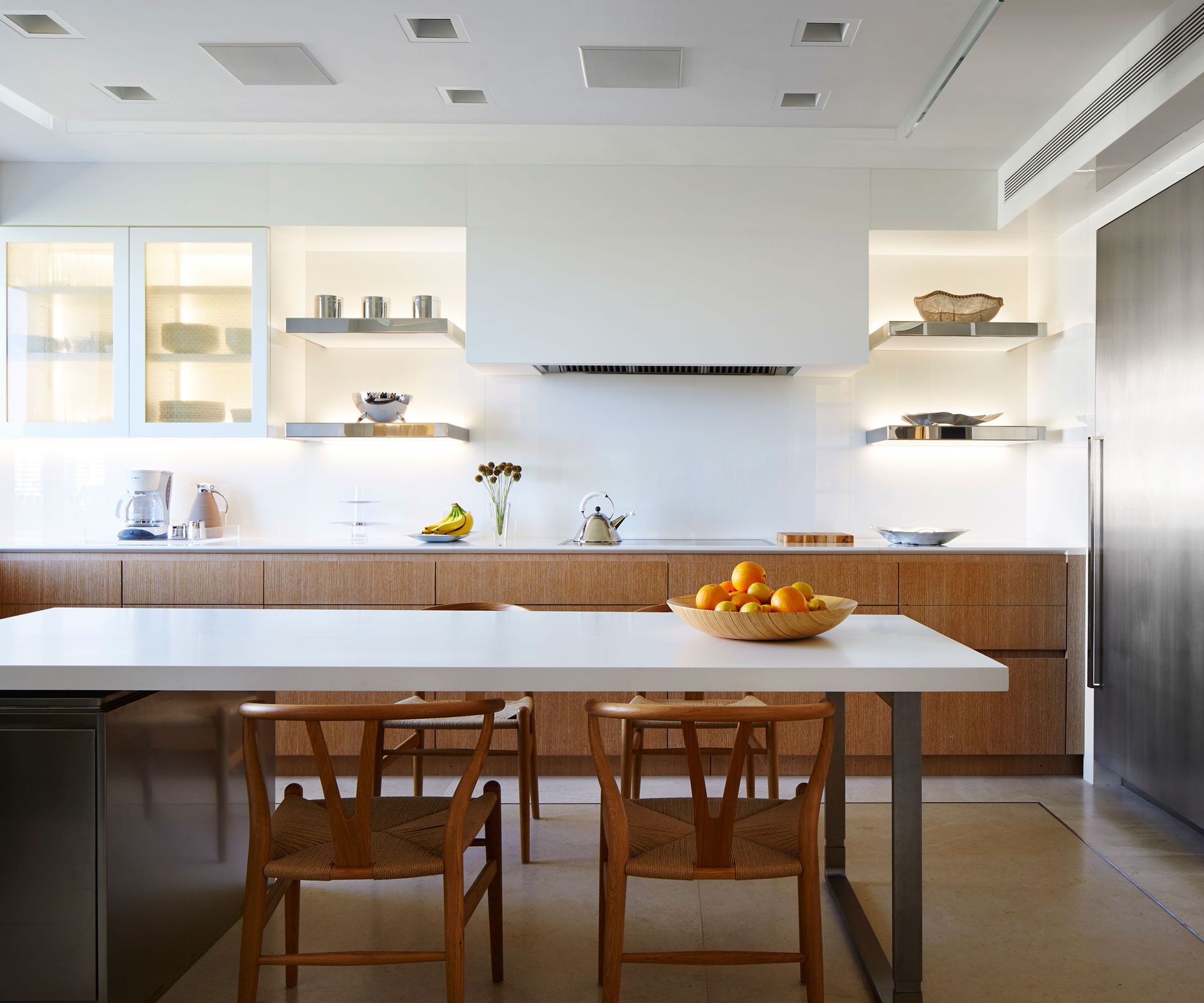 'The most eco-friendly advice I can give is to design a kitchen that is timeless,' says Francis Nicdao, principal and chief creative officer of Pembrooke & Ives. Keeping longevity in mind is key with any kitchen remodel, but even more important if you are making home improvements that are eco-friendly: 'Reducing the chances of having to redesign or make amendments at a later date means creating less waste,' adds Nicdao.
As principal and chief creative officer at Pembrooke & Ives, Francis is responsible for the creative oversight of projects across the company as well as for running his own design and decorating team, working on residential and commercial projects across the country. Having worked at the company for over fourteen years, Francis has helped shape and grow the company into what it is today.
Born in the Philippines, Francis grew up in a town where handcrafted furniture is made. Family and family friends had factories where they trained artisans in woodwork, caning, and embroidery.
Surrounded by artists and craftsmen, he was interested in art and design at a young age. After moving to New York, he focused on drawing and painting, receiving scholarships to various art schools and apprenticeships.
Francis studied at Pratt Institute earning a Bachelor of Fine Arts degree in Interior Design. He also attended a design and architecture program at the Royal Academy of Fine Arts in Copenhagen. Prior to Pembrooke & Ives, Francis worked at D'Aquino Monaco where he designed private residences, spas, and retail concepts for various clients. At Pembrooke & Ives, he continues to work on high-end residential projects as well as full building renovations, lobbies renovations, and product design.
2. See past the trends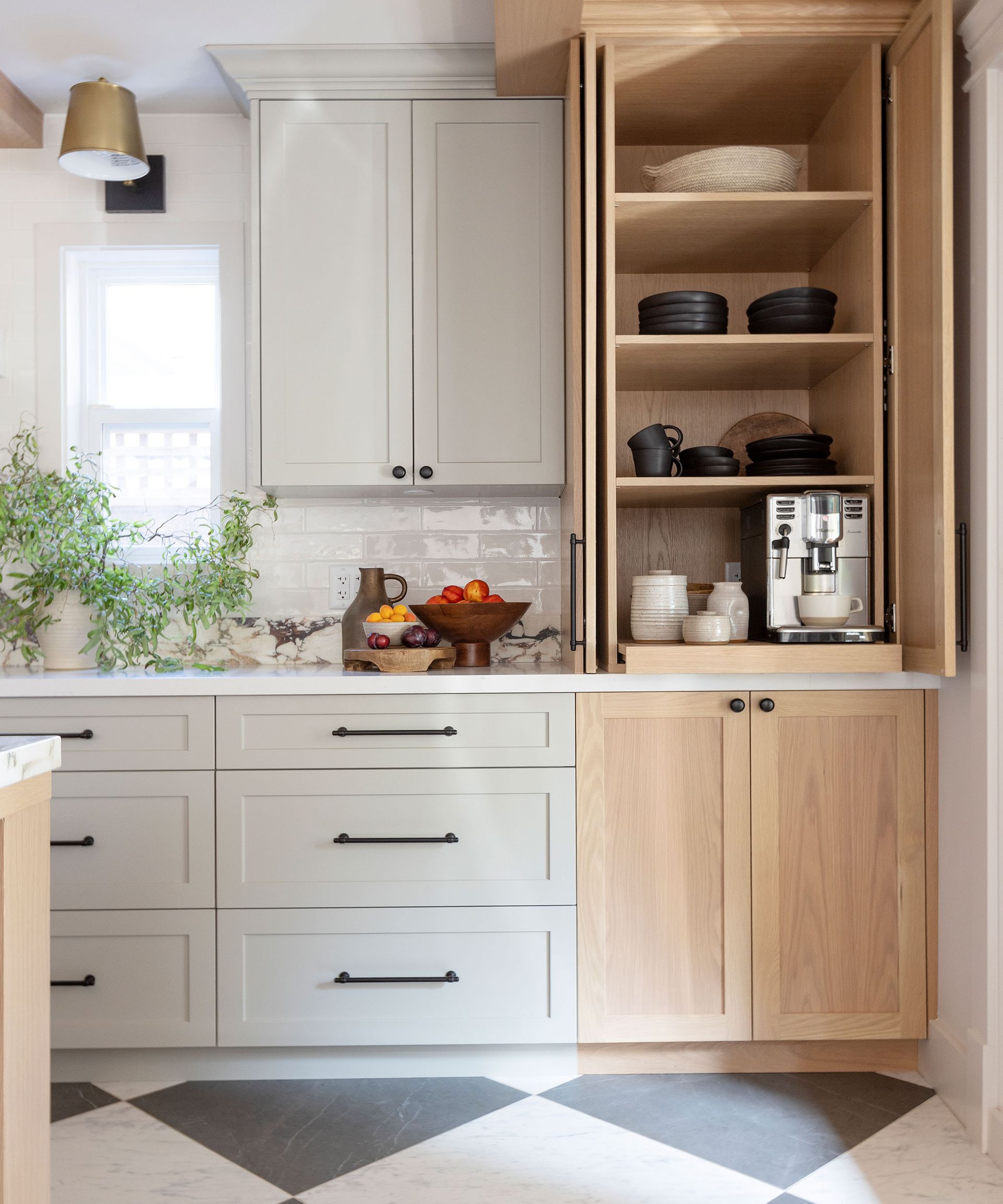 We are all a little guilty of ogling over the latest kitchen design trends, but consider how you invest in them and avoid basing your entire remodel on one specific, or very niche, trend that might pass. 
This does not mean that you cannot incorporate any of the latest looks, simply be mindful of how you go about it: 'Find materials and make design decisions that don't follow trends but that have longevity and durability,' shares Nicdao. For example, if a particular countertop material is trending and you know you will still love it in 10+ years' time, consider investing in a reclaimed version or buying with a company that focuses on its sustainability efforts.
3. Salvaged materials and modernity can go hand in hand
It is true that we don't always put eco-friendly and contemporary looks together. However, modern kitchen designs can be made sustainable with the addition of reclaimed materials like tile and countertops. A sleek finish is never out of the question if you look in the right places as Jess Onorato, Director of Product and Design at Habitat Home & Garden, tells us.
'While it's true a sustainable kitchen design should incorporate the use of reclaimed and salvaged materials and furniture, this doesn't mean the style must be "rustic." There are many companies that offer high-quality cabinetry and countertops from owners replacing their kitchens, and re-selling them at discounted prices,' says Onorato.
'For an even more sustainable approach, one can source unique or antiqued pieces that can be repurposed into cabinetry, shelving, and worktops. Consider using one of our Reeves Four Door Cabinets by separating the two-part piece, mounting the top portion to a wall, and accessorizing with dishware, while the bottom cabinetry serves as kitchen storage. One can even add a sustainably sourced worktop, incorporating complementary tones to the flooring or backsplash design. Our Elm Kitchen Island is another beautiful example of selecting a sustainable piece for a kitchen remodel.'
Jess Onorato is a seasoned designer with over 15 years of experience in home staging, interior design, and sourcing home products with profound histories and unique characteristics. Over the last 3 years to date, Jess has worked at Central California furniture and design store Habitat Home & Garden where she is currently the Director of Product and Design. Aligning with Habitat's ethos of cherishing the inherent stories encapsulated within carefully chosen design pieces, she operates on the belief that a well-designed space has the power to enhance lives, evoke emotions, and inspire creativity. Through immersing herself in various cultures and travel, Jess holds a profound understanding of the interplay between aesthetics and cultural context, believing travel and life experience play a very important role in one's ability to incorporate pieces into a space in a way that is unique and authentic.
4. Make low VOC paints your new norm
A painted kitchen can be a showstopper and if you do want to go down this road, be sure you are using a low VOC paint over regular paint. VOC stands for 'Volatile Organic Compounds' which the EPA states can 'include a variety of chemicals' that may have adverse health effects. The National Library of Medicine notes that VOCs can also have a detrimental effect on the environment. It is simply best to limit exposure to them and they are often present in paints and household cleaners. 
'A staple for selecting kitchen paint is certainly the durability, look for extra washable and scrubbable finishes like our Resistance Matt Emulsion, perfect for those messier areas in the home, resistance paint also lasts longer making it more environmentally friendly,' says James Greenwood, interior expert at Graham & Brown. 
'Always look for low VOC and water-based paints for the most environmentally friendly options,' continues Greenwood who notes the importance of checking the company you are buying from to ensure they have strong sustainability values – such as Graham & Brown.
Onorato agrees that simply editing your choice of paint can make a big difference: 'Even opting for non-toxic paints made without harmful chemicals is an easy way to support an eco-friendly home design.' 
Since completing his fashion marketing degree and spending a year working in luxury PR in London, James has spent over 8 years living and breathing wallpaper and interior design. Joining Graham & Brown in 2015 working through the marketing and product teams before spending time in the field developing our Graham & Brown partner network. 2021 saw James return to his passion for delivering exceptional products and design into the market heading up Graham & Brown's lifestyle interior brand.
Working across all product categories James' ambition is to deliver beautifully curated homes to customers and to inspire them every day.
5. Incorporate 'old-world' pieces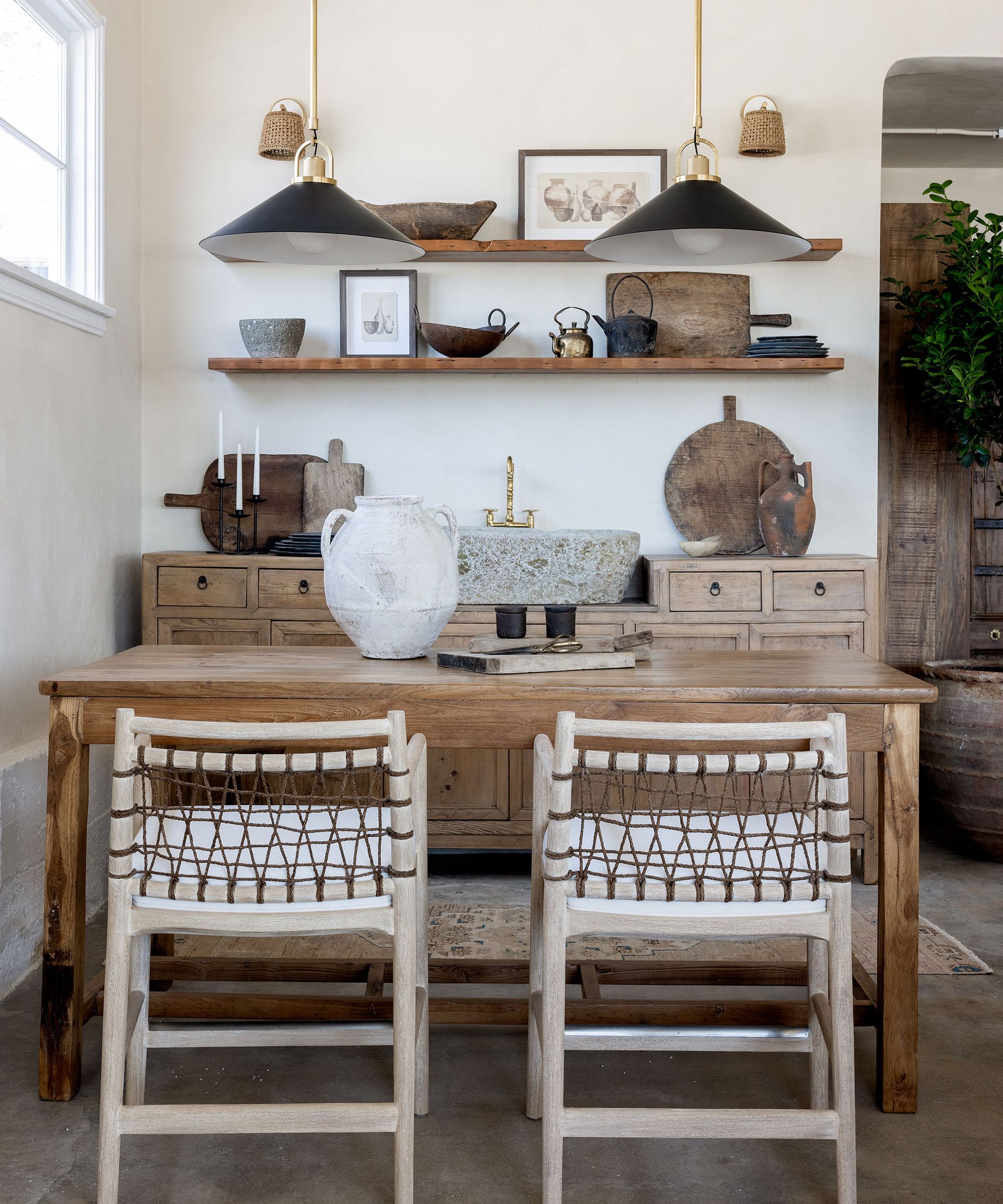 In the spirit of creating a kitchen that looks and feels timeless, Ami McKay, creator of PURE Design recommends including objects that have a little more history and charm to them. 
'Incorporating old-world, found pieces as decor and millwork (ie. vintage table as island, antique hutch as cupboards, oversized ceramic pots for florals).' Not only will you enjoy a unique finish in your space, but you'll be saving on the resources that go into manufacturing new products.
Make this an easy task by visiting local thrift stores, and keeping an eye on eBay, Craigslist, or Facebook Marketplace. You never know what may turn up one day.
'Furthermore, while there are many alternative solutions to a 'classic' kitchen remodel, it's important to keep in mind that the goal is to keep as much out of the landfill as possible,' continues Onorato. 'One of the easiest ways to do this is by incorporating pieces that are repurposed, re-used, or antiques.' 
6. Branch out with kitchen materials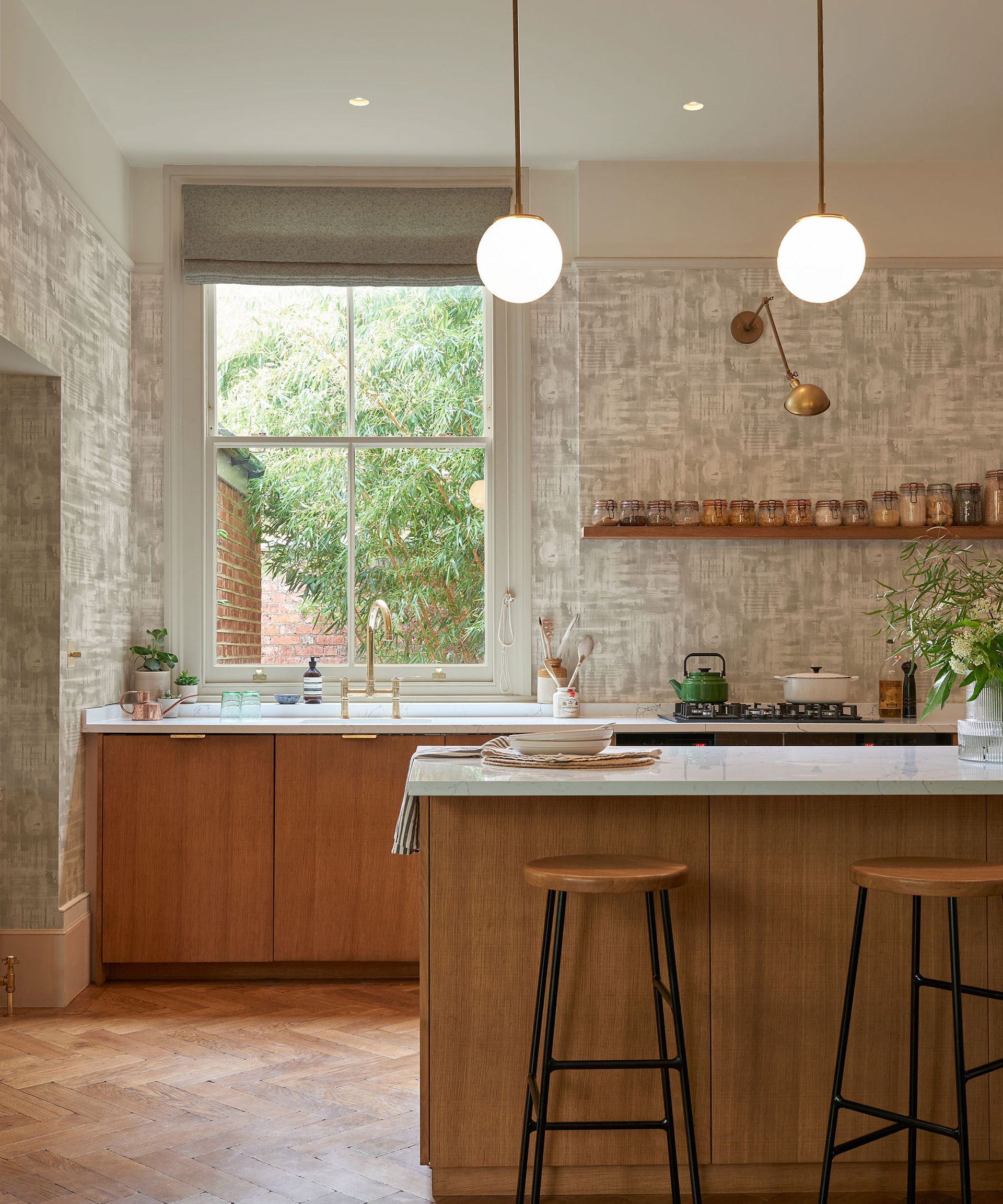 You need hardwearing materials in a kitchen, so choosing quality, natural materials that are local where possible and sourced sustainably is key to not using up so much of the earth's resources.
'There are a variety of different materials that can be incorporated into a sustainable kitchen design. One of the materials with growing popularity is bamboo, due to its fast-growing abilities. Bamboo can be beautifully designed as flooring, wall treatments, and even something as small as cutting boards. Additionally, cork is a sustainable material option, given that it can be harvested without harming the tree itself,' says Onorato.
McKay further notes that 'soapstone countertops, and wood millwork with low VOC finishing,' make sound inclusions. 'Induction ranges to help with air quality,' continues McKay.
There is a lot to discover in the world of sustainable kitchen design and some of the most sought-after looks may in fact be 'reclaimed' so do not overlook them. 'Recycled stone chips can be made into beautiful kitchen countertops, and can create a look similar to granite while leaving a smaller eco footprint,' continues Onorato.
7. Rethink textiles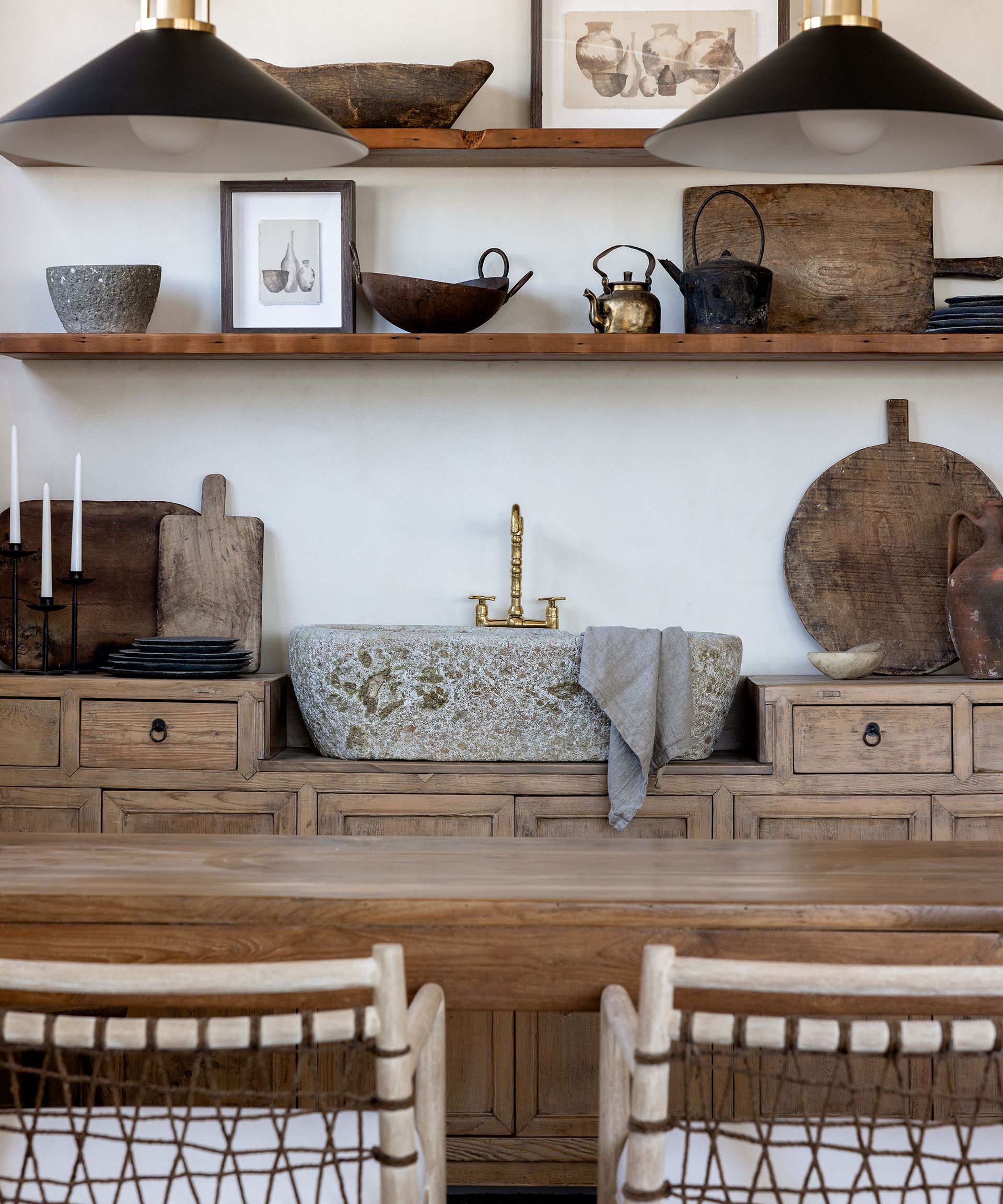 If you want to make small but sustainable changes to your cooking space, picking up a new rug or teacloth might seem like a wise idea for a quick refresh, when actually you must be sure to recycle those that you can no longer use and if you do purchase more, do so in a thoughtful manner as they typically produce a lot of waste.
'Additionally, while textiles majorly contribute to toxic waste pollution, it's important to be aware of the materials and make of certain pieces, considering seat cushions, tea towels, window drapery, and kitchen rugs,' highlights Onorato. 'Sourcing organic cotton or wool, especially untreated, is a simple approach to a more sustainable kitchen design.'
Furthermore, one can source beautiful, vintage copper as cookware to incorporate into the kitchen design.'
8. Start slow
With every type of remodel, thorough planning is essential so that you don't overlook any finer details. There are various things to consider when remodeling a kitchen, but when it comes to creating a more eco-friendly kitchen space, Onorato encourages us to start slow and go at our own pace.
'Despite the perception, creating a sustainable kitchen design doesn't need to be an intimidating undertaking. Rather than commit to a full remodel, consider starting the process by using eco-friendly appliances, such as cookers with high energy efficiency and LED lighting.'
Sustainable kitchen appliances can often be some of the cheapest and most energy-efficient appliances to run and LED lighting is readily available from Amazon and hardware stores.
FAQ
Where do I start with an eco-friendly kitchen remodel?
Whether you are doing a full remodel or not, careful planning is the key to success when doing any home improvement job, but most especially in a more eco-friendly way:
"The importance of a sustainable kitchen design is often overlooked and underestimated,' notes Onorato.
'Minor decisions regarding materials and layout can yield significant benefits to the environment. In the beginning stages of a kitchen remodel, it's most helpful to brief your architect and discuss your sustainability goals, ensuring every decision throughout the process holds this goal in mind. If you are remodeling on your own, spend some time researching companies that are zero waste, or entirely offset their carbon emissions.'
Is paint or wallpaper more eco-friendly?
Since both a painted kitchen and one with wallpaper will look smart, we were curious to know how they compare in terms of eco-friendliness.
'As a rough guide, 1m2 of paint roughly has a carbon footprint of 0.33kg vs a Graham & Brown roll of wallpaper made from sustainable accredited paper, water-based inks, and renewable energy without any carbon outcome offset,' says Greenwood.
---
In the spirit of slow living and leading a more conscious lifestyle, take your time when planning a kitchen remodel to make more thoughtful choices that will better support the earth, and stand the test of time.