It's safe to say that almost every home renovation we do for our show includes a bathroom renovation. Bathroom renovations are a great way to update your look, add more functionality, and increase energy efficiency. There are also many bathroom design features you can incorporate to add value to your home. Plus, a bathroom renovation provides the opportunity to repair any water damage or mould that has accumulated over the years. If you are thinking about renovating your bathroom in your forever home, I would highly recommend adding some accessories that will make your life easier and safer, like grab bars, a shower bench and more storage.
Here are 9 bathroom design features to consider for your next bathroom remodel.
#1. Enhance Safety and Accessibility with Grab Bars
---
For homeowners who intend on aging in their homes, grab bars are an essential feature. Install grab bars on the walls where you need support when sitting or standing. This includes areas by the toilet, sink, or in the shower area. Really it's anywhere you feel you might need something to hang onto for stability and help prevent falls. 
There are many different styles and finishes of grab bars available to suit everyone's taste too.
Pro Tip:

For maximum strength and safety ensure all grab bars are mounted into the stud and not the drywall. Also, the average grab bar should support at least 250 lbs. Look for either ACA (Accessible Canada Act) or ADA (Americans with Disabilities) compliance on the product.
RELATED: 

Remodeling for Accessibility and Aging In Place

Is Aging in Place Right for You and Your Home?
#2. Optimize Bathroom Storage With Shower Niche or Corner Shelves
---
When you are designing your new bathroom think of ways to add more convenience and storage. Yes, that can include cabinets and wall units but also think about the space within your shower or tub areas. 
Instead of using the tub ledge or the floor of the shower to store bathing items like shower gel and shampoo consider adding a shower niche. These handy wall insets allow for a streamlined space for all your bathing items.
Shower and bathroom surround niches can be custom but there are also prefabricated ones. 
Schluter Prefabricated Shower Niches
We've installed a lot of shower niches in our bathroom projects and we love the prefabricated Schluter KERDI-BOARD niche. They come in a variety of sizes and make installation that much easier. They can be installed in both KERDI and KERDI-BOARD wall assemblies. 
What could make a shower niche better? How about adding some LED lighting? The Schluter prefabricated KERDI-BOARD shower niche is also available with integrated LIPROTEC LED lighting. This is a great solution in shower or tub areas that have dark spots as it will make things easier to see. This also adds a nice warm ambiance to your bathroom for creating an at-home spa experience.
The system is made of three parts: the KERDI-BOARD niche, power supply, and cable.  Depending on the style and layout of your room, you can use Schluter's light switch or choose your own. All connections are compliant with the National Electrical Code (NEC) and Canadian Electrical Code (CEC) for lighting installations in wet environments.
RELATED:

5 Benefits of a Shower Niche

Holmes On Homes Podcast On hat You Should Know About Electrical Code
SCHLUTER KERDI SHOWER SHELVES
Another great option that Schluter has, are their shelves that are designed to fit right into the shower niche. Makes your niche even more functional!
Alternatively, you can incorporate shelves right in your tub/shower area. Schluter has stand-alone shelves that come in many shapes and sizes, making the perfect addition to your storage solutions, They also come in a variety of colours and designs so your entire bathroom, from your drains to your fixtures can tie together, giving you that seamless finish.
RELATED:

How to Pick a Shower Drain and Shelf Combination
#3. Heated Floors Add Warmth, Save Money and Reduce Noise
---
I think heated floors are a great addition to any bathroom renovation. They can provide continuous warmth and comfort to the space, which can be a nice touch as we tend to feel the cold more, as we age.
The best flooring option for in-floor heating is typically porcelain or ceramic tile. These tiles are durable, have excellent heat conductivity and stay warm longer offering better energy efficiency than other materials. 
My fans and followers know I'm a huge fan of Schluter Systems – and I wouldn't use anything else to protect a bathroom renovation from rot, mould and mildew. Their DITRA-HEAT floor warming systems also offer uncoupling to prevent movement stresses from being transferred to the tile and causing cracking.
Pro Tip:

For the best tiling results always start with a level floor – this will help ensure your floor will last and your tiles won't lift, shift or crack.  Sika Level-125 self-leveling underlayment and Sikalevel primer are what we use and it works great under carpet, wood, and vinyl.
If you're also looking to reduce your sound levels, DITRA-HEAT-DUO is another good option. It includes a fleece layer that creates a thermal break to save energy and dampen noise.
They also came out with peel-and-stick versions of DITRA-HEAT to make installation quick and easy! Less equipment is needed, and no thin-set is necessary to install the membrane. We've used that on a few of our projects!
RELATED:

Bathroom Flooring Guide: Schluter DITRA-HEAT Peel And Stick Product-Review

How Do You Prevent Tiles From Cracking

In-Floor Warming Systems Explained
Pair that with a programmable WIFI thermostat and you never have to have cold feet again. Think about stepping out of a warm bath and onto a toasty floor!
RELATED:

A Complete Guide To Building A Smart Home
#4. Curbed vs Curbless Showers, Which One?
---
I'm a shower guy and have been for years. So when I finally renovated my old bathroom, I decided to replace the bathtub with a walk-in shower, and I love it. 
While they're both considered walk-in showers it's important to understand there is a difference between a curbed and a curbless shower. A raised barrier separating the shower from the rest of the bathroom is called a curb-style shower. Whereas a curbless shower has no separation so the shower floor and the rest of the bathroom floor are an uninterrupted space. 
A curbless shower is ideal for anyone with mobility issues or who wants a bathroom that has a spa or steam shower look and design. When we renovated Noah's house on Holmes Family Rescue season 1 we made sure to install a curbless shower to give him the freedom and independence to use the shower himself, especially as he grows older.
RELATED: 

CURBING THE CURB PROS & CONS TO BUILDING A CURBLESS SHOWER
Making Sure Your Bathroom Is Watertight
However, whether a curb or curbless shower install the most important thing is to make sure your bathroom is watertight. This will help you avoid mould, decay and rot, and make your bathroom last longer. Remember, it is not the tiles and countertops that matter in your bathroom, it is everything UNDERNEATH and BEHIND your finishes that you should focus on.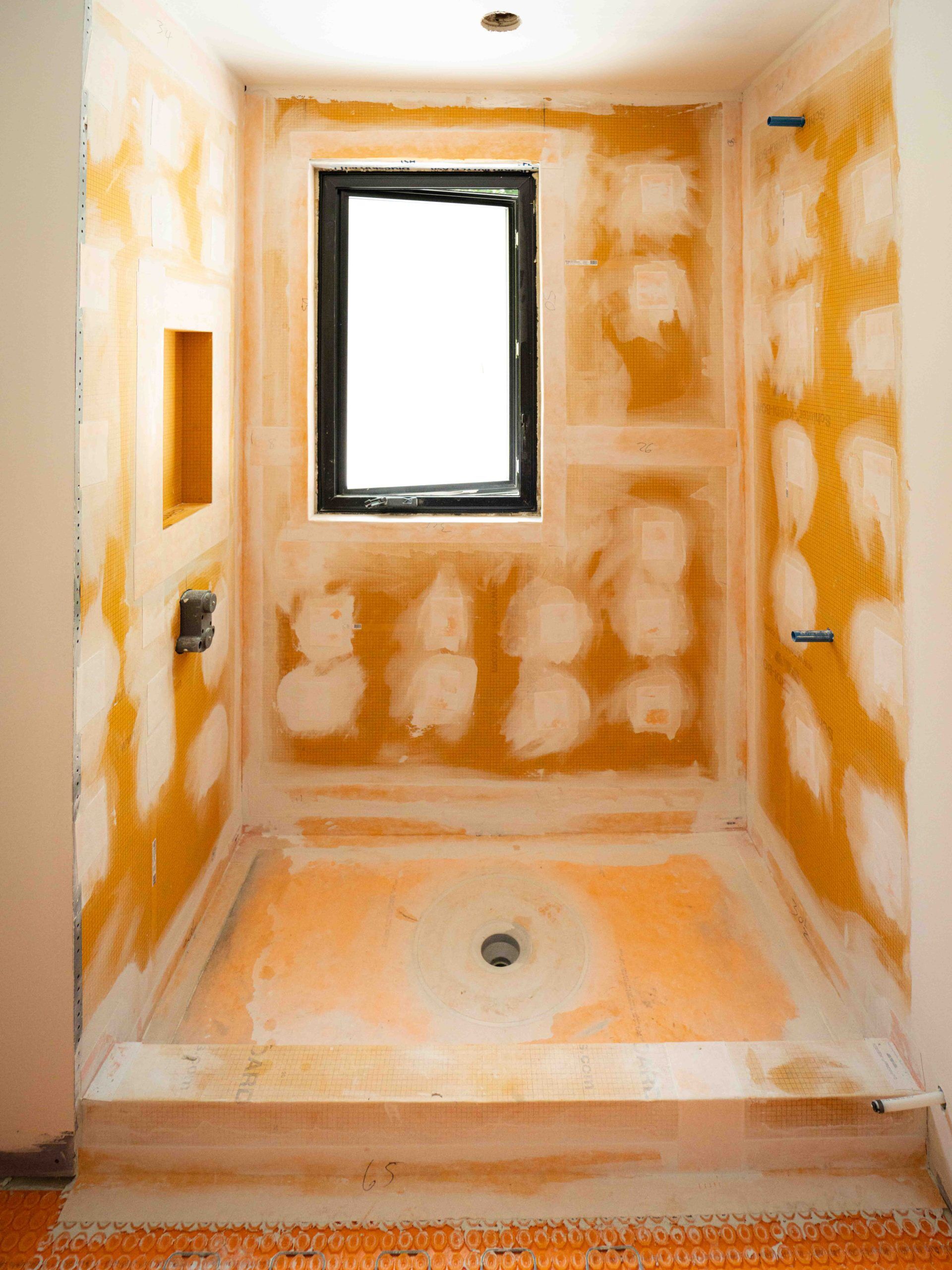 Utilizing a continuous layer of moisture protection is the most effective way to create a watertight bathroom. On every bathroom renovation project I work on, I use Schluter Systems. It's the best, most complete system in my opinion, and they always introduce new accessories to make my job simpler. 
Schluter KERDI-BOARD is lightweight, easy to cut, waterproof, and vapour-retardant. It is the perfect building panel and substrate for tile-ready elements in showers and bathtub surrounds. I use it for all of my wall tile jobs. Because it is so robust and adaptable, you can build nearly anything out of KERDI-BOARD, including shower niches, floating shelves, curbs, knee walls, and shower benches. 
RELATED: 

How To Make Your Bathroom Watertight
#5. Larger Tiles And Linear Drains For Your Curbless Shower
To create an accessible and ADA-compliant wet area in your forever home, curbless showers are a must. These showers, along with larger tiles, are the key to an elegant and functional bathroom remodel. Larger tiles give the illusion of spaciousness and reduce grout lines, resulting in a sleek and modern appearance.
Proper drainage is just as crucial in your remodel. Grading your floors, by gently sloping them towards the drain, ensures efficient water flow and reduces the risk of mould and slips.
You can design a curbless shower that is elegant and functional by incorporating linear drains. These drains have become increasingly popular in contemporary bathroom design because of their ability to blend in seamlessly with the overall aesthetic.
However, setting a precise length for your linear drain during the project planning stage can sometimes be difficult. This problem is solved by Schluter®-KERDI-LINE-VARIO, which offers total customization and enables installers to cut the linear drain to size on the job site. Brilliant!
The linear channel is a component of the grate assembly, as opposed to the drain body as with conventional linear drains, allowing for flexible placement of the flange depending on the location of the drainage outlet. These linear drains come in 4ft and 8 ft lengths and can be easily cut onsite to fit to size.
The installer has more control and can work on projects without first determining the size of the drain or making repeated trips to the job site. Making it easier for installers to do shower installations of different sizes with ease.
PRO TIP:

The KERDI-LINE-VARIO does not replace the KERDI-LINE linear drain. There are two distinct choices, with VARIO being the choice for a linear drain with a changeable length. VARIO is not intended for curbless entry placement; it is only intended for center or wall installation. A single standard shower head application is also intended for Vario, which has a maximum flow of 2.5 gpm (9.5L/m).
RELATED:

How to Pick a Shower Drain and Shelf Combination
#6. Bathroom Windows Can Be a Great Benefit
---
Adding a window to your bathroom renovation provides some great benefits, like additional ventilation (fresh air), natural light, and maybe even a nice view! It can also provide additional storage on the ledge. 
Make sure you use high-quality energy-efficient windows and an installer that is backed by a manufacturer, like my friends at Trimbo Windows. Any privacy concerns can be addressed with a window dressing, frosted glass or a window film.
#7 Bathroom Ventilation is a Must!
---
The best bathroom exhaust fans will get rid of excess moisture properly. When selecting a bathroom fan consider things like noise level, airflow capacity (CFM), and energy efficiency. 
Bathroom fans come with many features, like Bluetooth speakers, motion detectors, heat lamps and lights. We always install a high-quality ventilation fan in all our bathroom remodels, like the Panasonic Whisper Value DC.  I also like the WhisperFit DC fan, which comes with a single 10W dimmable LED chip panel. 
Vent fans that come with a lot of accessories may need a separate dedicated circuit. However, most vent fans will be powered by the same general lighting circuit.
The vast majority of bathroom fans are vented through the roof, although soffit venting is an alternative. However, keep in mind, especially in Ontario or cold climate areas, if you choose to soffit vent the fan, you are exhausting warm, damp air from the bathroom. This could result in the exhaust point freezing and becoming blocked during the winter.
RELATED:

How To Choose The Right Bathroom Exhaust Fan 
#8 Shower Benches are a Great Addition
---
I love my built-in shower bench as it gives me a space to sit and relax and take in the peaceful moment.  It also makes your bathroom and shower area more accessible, for aging in place or if you have stability concerns.
Shower benches can come prefabricated or custom. We use the Schluter prefabricated shower benches and KERDI-BOARD for custom benches on all our jobs. It's waterproof, easy to install, and is reliable and made to handle the weight.
Prefabricated benches come in a triangular (corner) or rectangular shape, but KERDI-BOARD also makes it very easy with the marked lines to create a custom-sized bench. You use cut sections of 2"-thick KERDI-BOARD and apply thin-set mortar. To bond the panels to the floor and wall substrates, apply unmodified thinset mortar to the supports.
For those who don't have the budget for a built-in bench, there are many styles and types of portable benches available.
RELATED:

Shower Benches – Why You Might Need One In Your Bathroom
#9 Light Up Your Space with Layered Bathroom Lighting
---
Just like the other rooms in your home, lighting is an essential element. In bathrooms, it may be even more important as it needs to be functional as well as provide some ambiance. To create the perfect balance, you will need a few different light sources within the space.
For general lighting above showers and tubs when a watertight fixture that can tolerate significant amounts of moisture is required, Lotus LED Steam Shower Downlights are the best option. These 2-inch fixtures are essentially necessary if you want a light over your shower. 
Philips Hue also has a great line of smart bulbs, that include LED tape lights, under cabinet fixtures, step lights, and surface mounts. These smart bulbs can easily control the intensity of the light and colours to set the mood – all from your phone as it is easily connected to WiFi and an app. Plus, most smart lighting and bulbs are energy efficient, saving you money.
Eaton also has lots of great smart devices
like smart Wi-Fi dimmers and receptacles that can help you control everything remotely from your phone with a tap of a button. We had a few of these installed on our own projects.
RELATED:

11 Small Bathroom Lighting Ideas – Tips for Better Lighting

How to Choose The Best Smart Lighting Solutions for Your Home

What You Need To Know About Pot Lights or Recessed Lighting
Hiring A Licensed Electrical Contractor for Electrical Work
Remember, proper electrical installation is very important, particularly in bathrooms where proximity to water occurs, and always consult with a Licensed Electrical Contractor. In order to do the job safely, an LEC has received extensive training, has a thorough understanding of electrical codes and regulations, and has years of expertise.
What To Look For When Hiring a Licensed Electrical Contractor (LEC) in Ontario:
If you're in Ontario, all Licensed Electrical Contractors must provide a 7-digit ECRA/

ESA

license number. This number proves they can operate their electrical contracting business in Ontario. This license number must appear on their vehicles, business cards, and all paperwork. You can confirm it using

ESA's Contractor Look-Up Tool

Written estimates should include ECRA/ESA license number and ESA permit fees

Check references

Confirm that they will file for a notification or permit and get a certificate of acceptance when work is completed.

Upon completion, licensed electrical contractors should provide the homeowner with a Certificate of Acceptance from ESA for your records.
To find a licensed electrical contractor near you visit: myhome.eaton.com or if you are in Ontario, Canada visit findacontractor.esasafe.com
RELATED:

Hiring a Licensed Electrical Contractor in Ontario: When And How

How to Hire a Licensed Electrical Contractor For Your Electrical Work

The Danger Of Diy Electrical Work
A bathroom remodel or renovation is a big job, so take your time and consider some of these tips – they may just make you fall in love with your bathroom, again!
READ MORE:

How To Renovate a Small Bathroom

Bathtub Buying Guide: What You Need To Know About Bathtub Surrounds

Benefits of Adding a Bathroom Shower to Your Basement