During the summer months, our backyard spaces give our homes a new lease of life. We can throw open those backdoors and embrace our outdoor space as a new room for dining and socializing. In warm weather, these spaces become perfect for relaxing and lounging too. 
But it's so much more than just buying the right furniture. You have to really enhance the space with the right accessories and cushioning to make the space better for lounging on, and encourage you to embrace the great outdoors. 
I've spoken to interior designers to discover the best outdoor furniture tips for making the most of your outdoor space this summer.  
1. Embrace soft furnishings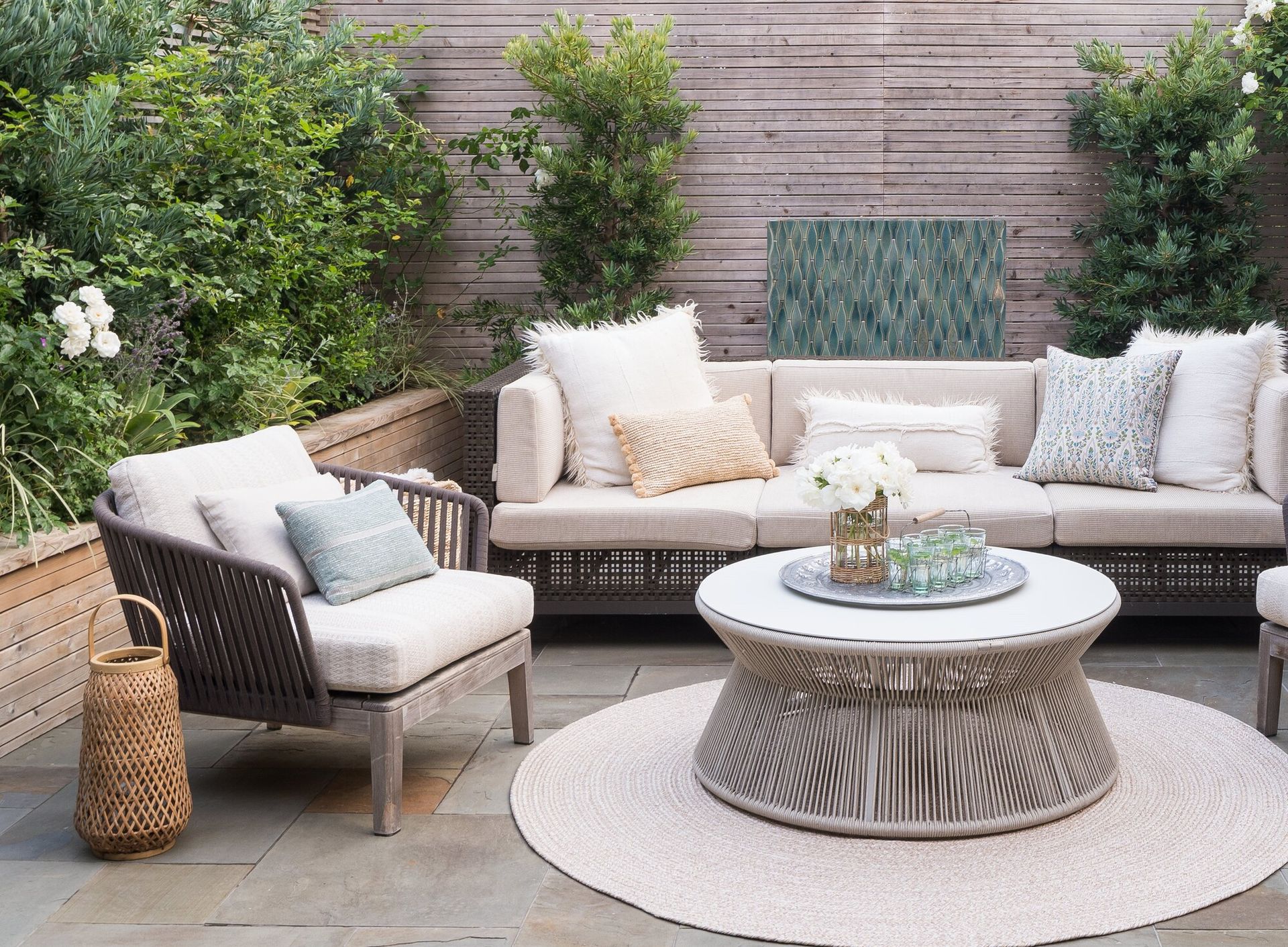 The number one rule when it comes to making your outdoor furniture better for lounging on is about embracing soft furnishings. 'When improving the comfort of your outdoor furniture, it's all about padded cushions and pillows,' says Lucas D´Adamo Baumann of Oon Architecture. A lackluster bench can transform into something cozy and inviting with a few cushions. 
It's all about layering too, which can help your outdoor furniture look expensive. 'Outdoor furniture needs great accessories if you want to lounge around in style,' says Melonie Bayl-Smith, architect and director of Sydney-based Bijl Architecture. 
'Think layering with a range of cushions – small, large and rolls – to create an inviting setting and to give you the comfort you need to really get stuck into a great book or a quiet drink.'
Throws that you can bring outdoors are also a great addition to your outdoor space. These will less likely be waterproof, so make sure you have storage available for stashing your outdoor furniture soft furnishings.
2. Think about the upholstery of your pillows
The furniture composition and the material choice is very important in the interior design process,' says Laura Canu, interior architect at Negre Studio. Make sure to use soft and breathable fabrics for seat cushions and covers. Fabrics that work best for your gardens include olefin – which is durable and super easy to clean, and standard polyester, which while it isn't waterproof, it is machine-washable and resistant to mold. 
Go for man-made fabrics as opposed to natural fibers like jute. If you do bring indoor fabrics outdoors during the summer, just remember to bring them indoors when not in use so they'll withstand the test of time.
'Many brands offer pillows and cushions in outdoor-grade fabric (Sunbrella and Perennials are notable fabric brands) that can stand up to the environment,' says says Kat Aul Cervoni, landscape designer and founder of Staghorn NYC and The Cultivation by Kat. 
For ways to make your outdoor furniture look more expensive, Kat advises slip on covers. 'If you've already got outdoor pillows/cushions, no need to buy new ones, just get new covers which can slip over old ones and zip up for a fresh look and colorway. The bonus for these covers is that they are often machine-washable so are extra easy to maintain.'
4. Think about where to put your feet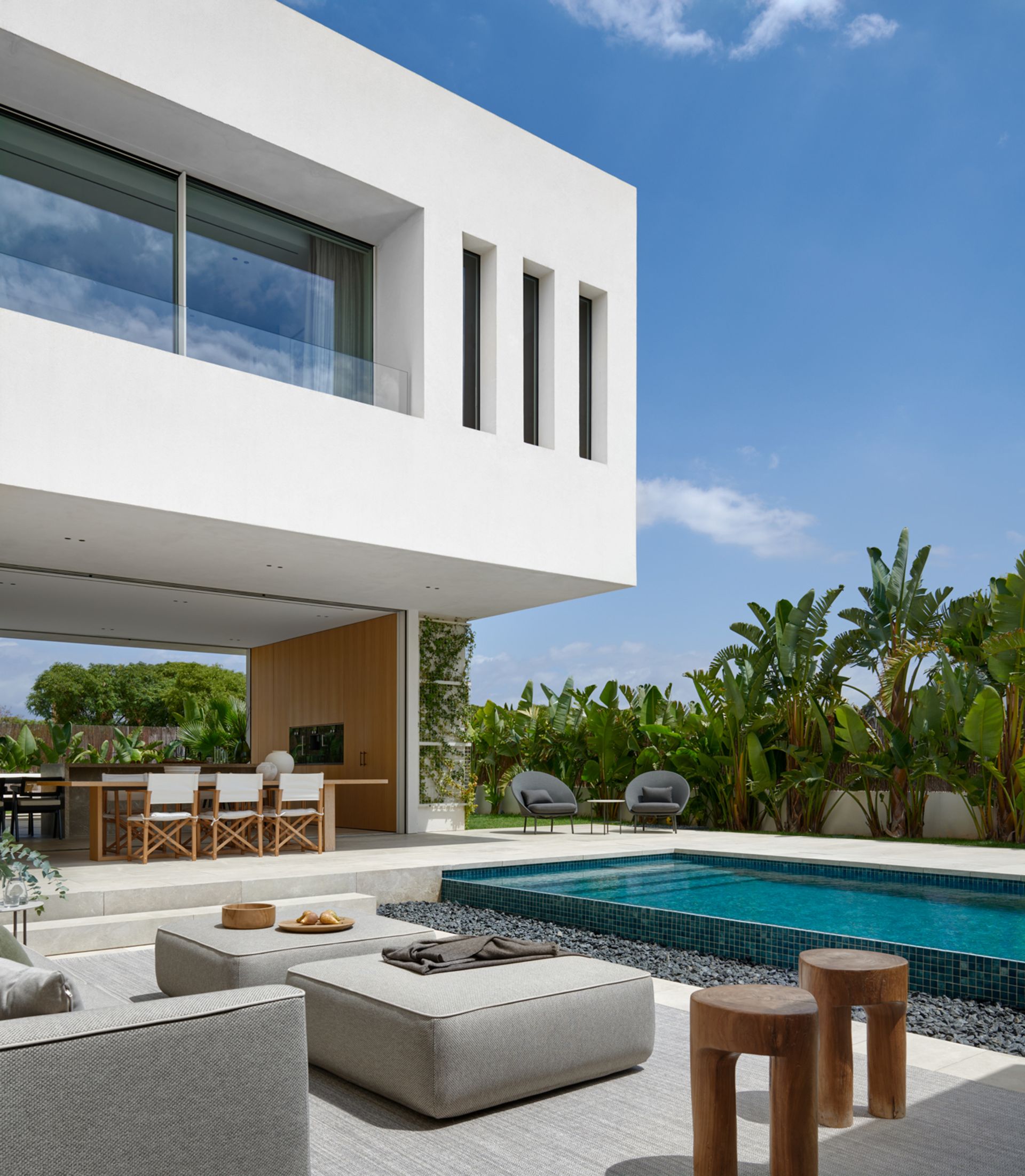 Pair your seating with a footstool or ottoman, or pick pieces that compliment your seating and encourage you to recline, reinforcing the idea that this seating area is a place for relaxation and rest
'Think adjustable armrests and footrests near your furniture,' says Lucas D´Adamo Baumann of Oon Architecture. 'Choose furniture with adjustable armrests and footrests to suit your preferences. 
It's not just about furniture you can put your feet up on. To create a lounging destination, it's all about grouping furniture together to give guests more of a reason to visit this corner of the backyard. An outdoor sofa or outdoor bench becomes a whole new lounging area when coupled with a side table or coffee table – don't underestimate the power of an additional piece of furniture. Consider the material of these complimentary pieces – something light and moveable is best so the space can be flexible to how you want to lounge. 
'Smaller side tables are often better than one large coffee table – they can be moved around more easily, and placed next to a lounge or seat rather than sitting out of arm's length,' says Melonie.
5. Install deep cushions
If you're looking for the perfect seat cushion, the deeper the better so as to add comfort. Deep cushions give your body more room to sink into, the extra padding giving you more support to your back. 
The best outdoor sofas and deep seating chairs have seat depths that typically range from 20 inches to 24 inches. A deep seating cushion with a seat depth of 20 inches to 22 inches will allow people of most heights to sit up comfortably, making activities like eating, drinking, and talking easier. 
However, if you want to lounge straight back in your seat and let the deep seating envelop you, a seat depth of 23 inches to 24 inches is what you're looking for.
When it comes to material for the padding, polyester fill is that cheap, soft, fluffy stuff that offers no support. They flatten out over time and provide more visual benefits than they do functional comfort. Foam is denser.
6. Think about shelter from the sun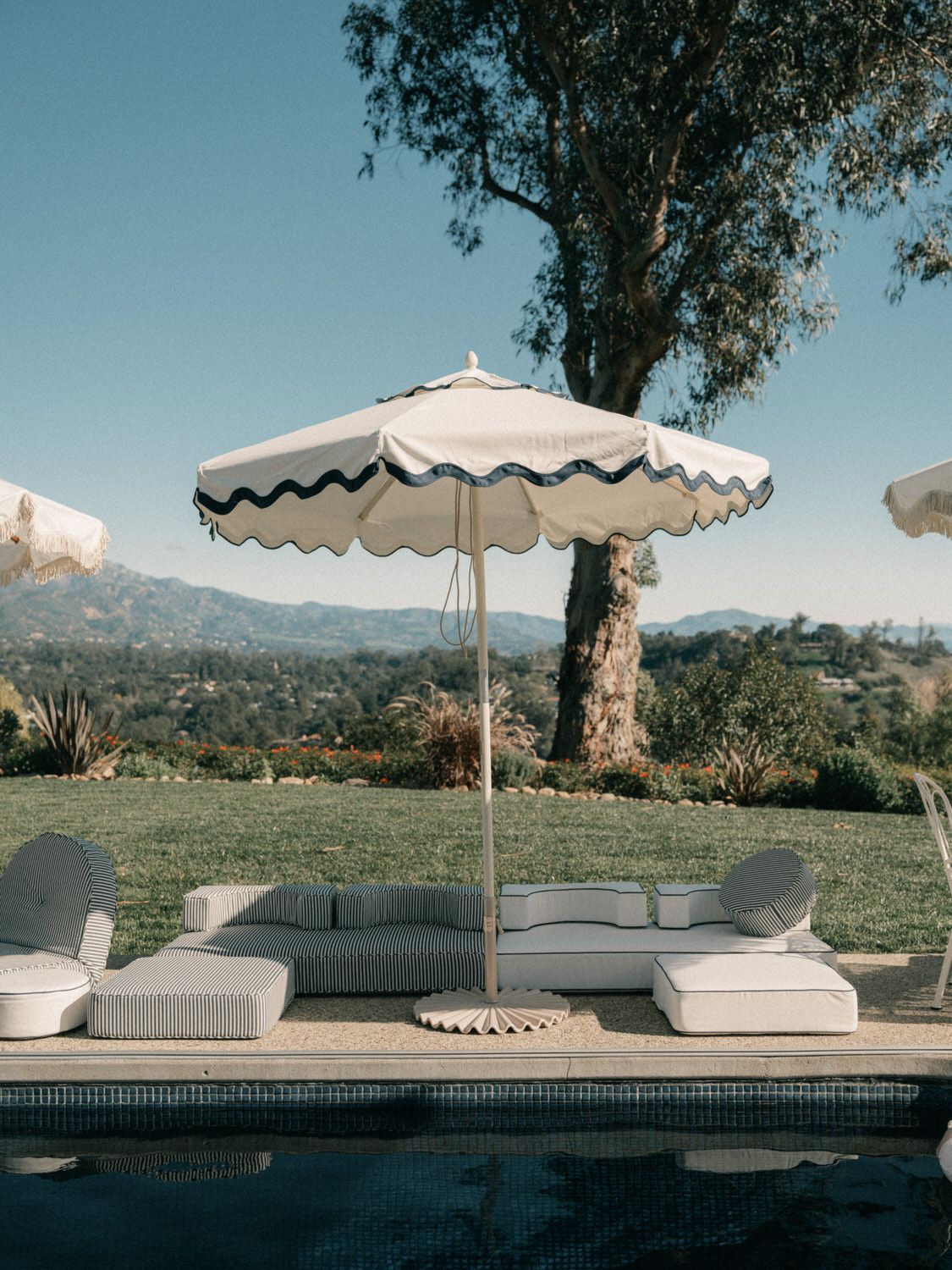 In the summer months, you may be inclined to use your outdoor space more than usual. But this also means you may be exposed to the harsh rays of the sun. 
'Umbrellas or awnings are a way to increase your backyard's lounging potential,' says Lucas. 'Install umbrellas or awnings to provide shade and sun protection.'
The best backyard umbrellas and outdoor shelters are made from Sunbrella fabric, a brand that is UV resistant and waterproof. 'Backyard tents and shelters are a nice addition to a relaxing space,' says Kat. 'They also give privacy, help define a special destination, and can help define a style or set a mood.'