Estimated read time: 5-6
minutes
If you've talked to people who've remodeled their kitchen or bathroom, you've undoubtedly heard horror stories about suppliers and contractors that promised great products, quality and timely service and a competitive price, only to drop the ball at every turn.
"I've been installing countertops most of my life," said Alan Jorgensen, CEO of Bedrock Quartz. "And when people ask me about the best approach to a painless remodel, I tell them to look for seven things to ensure the job is done right, on time, and within budget."
1. Does the company have many online reviews?
Does the company have independently verified reviews, how many do they have, does management respond to them, and how highly rated are they? Check Google, Yelp, Facebook, and other review sites. Read the reviews carefully to see what to expect, how well the company handled issues, and how satisfied the customer was. "A kitchen remodel is a big investment so doing a little research beforehand could save you from a big headache later," said Jorgensen.
2. Are they transparent in quoting prices?
Compare apples-to-apples quotes. Don't just look at the price and fall for the old bait and switch. Some companies may quote a lower-quality product to get you in the door only to try and up-sell a much more expensive product. For instance, suppliers may quote a thinner or less expensive countertop material with a standard edge to make the price seem lower. "One of the things I often hear is about surprise costs added after the installation," said Jorgensen.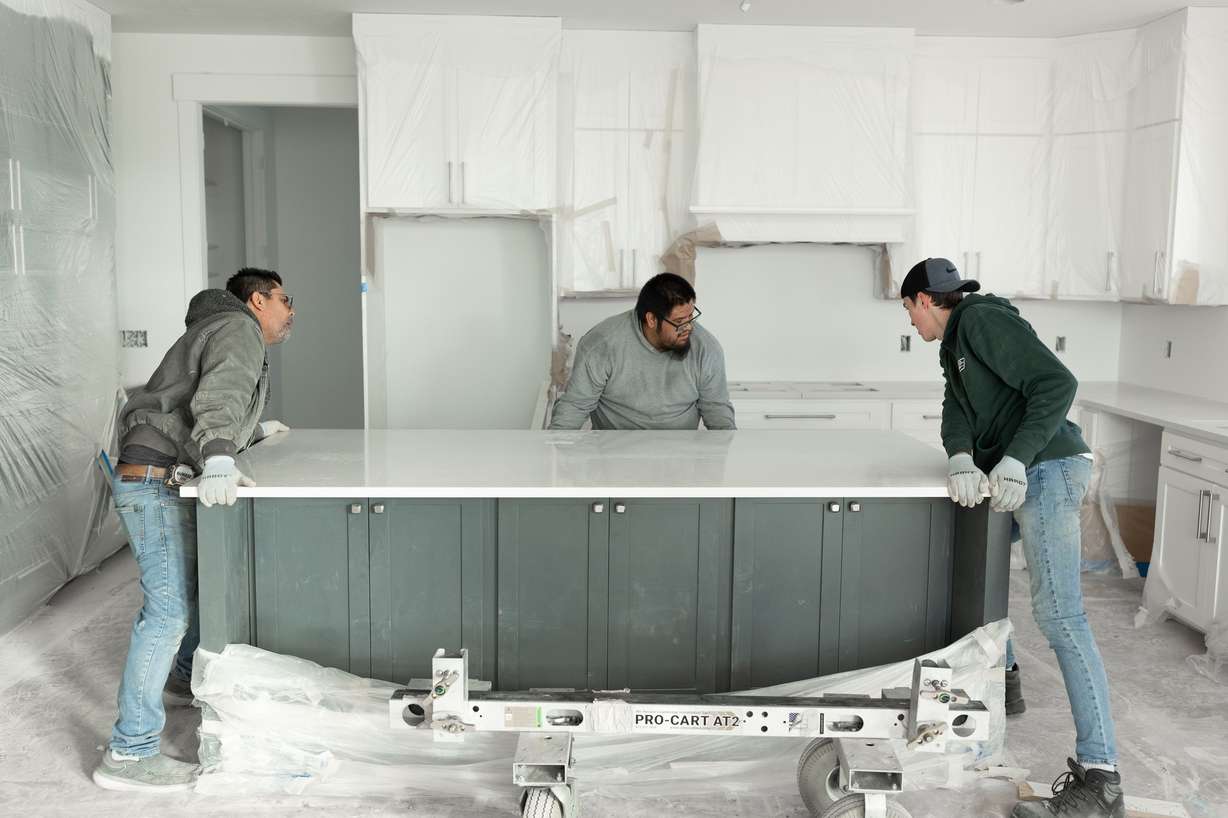 3. Is the company professional?
How long have they been in business? Will they be around in a year if you have issues with the job? How big is the operation? You'd be surprised to learn how inexperienced and small many operations are, often failing to meet demand and ultimately delaying your install. Choose a company that has vast experience in their trade.
"When getting an estimate, you should ask if measurement and installation teams are outsourced," said Jorgensen. "And do they use the latest technology to ensure measurements are right the first time? There's nothing worse than going through the whole process only to have a shoddy installation with mismatched seams and gaps that don't look right."
4. What about the process?
Will you have dedicated staff available to answer your every question? One of the biggest complaints about any home improvement job is a lack of communication. Make sure to look for a company that has their own customer service and scheduling teams that you can turn to and get updates about your project.
How about a quality control department? Many companies only focus on turning around as many jobs as they can. Pick one committed to quality that will make you feel like a partner in the process and not just a number.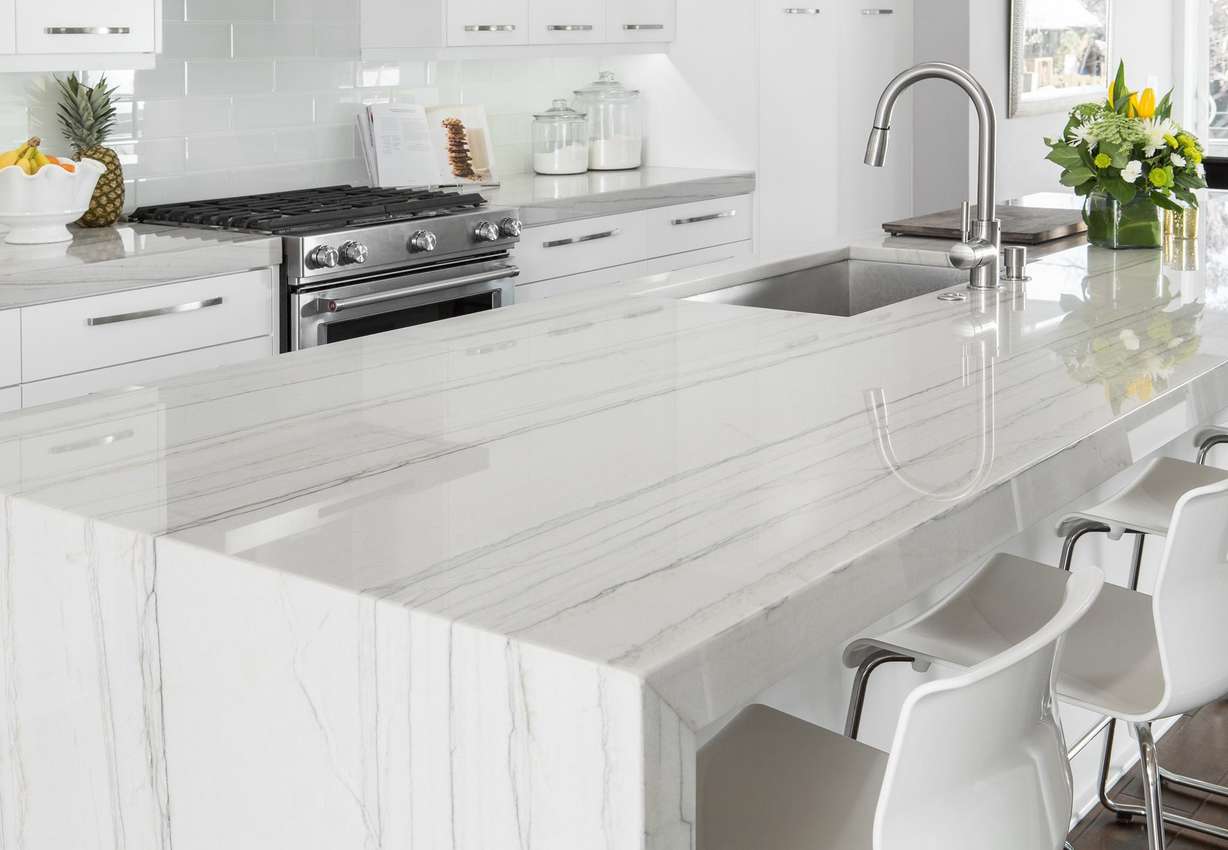 5. Do they offer a protection plan?
Make sure the company will stand by their work. Be wary of suppliers that don't offer a protection plan. The plan should last at least five years and cover everything from countertop installation to sinks, faucets, and backsplash.
6. Do they have physical locations to serve you better?
Can you visit a convenient physical location, check out real kitchen designs, and meet with a representative? "There's no substitute for seeing Quartz, Quartzite, Granite, and Marble in person, feeling the stone, and observing the beautiful, unique patterns and veining that can make your stone a one-of-a-kind," said Jorgensen.
7. Are they a one-stop shop for other services or products you may need?
"Part of the nightmare of a remodel project is coordinating all the contractors," said Jorgensen. "Ideally, your remodel partner offers multiple services to eliminate the hassle of shopping around. And if that supplier is highly rated, you know you'll be getting good work on everything they do."
Utah's preferred renovation solution
Now that you know the seven tips to avoid a nightmare kitchen remodel, who should you partner with? For thousands of Utahns each year, there's only one answer: Bedrock Quartz.
Bedrock Quartz is a proud Utah-based company with four showroom locations in West Jordan, Layton, Pleasant Grove, and St. George, with three more locations opening soon in Spanish Fork, on Vine Street in Salt Lake City, and in Park City. The company provides the highest quality products, made right the first time by in-house teams, and delivered through a smooth, on-time, and accurate installation process. "And if it's speed you want, Bedrock Quartz has the expertise and the capacity to offer a seven-day turnaround from template to installation, which is unparalleled anywhere in Utah," said Jorgensen.
"At Bedrock Quartz we are customer obsessed," said Jorgensen. "We strive to leave our customers delighted. That not only means a quality install but red-carpet service throughout your experience. That's why we've designed our company to be an expert in each of these seven areas. Our stone technicians are on-time, friendly, and professional, which has earned us over a thousand five-star reviews on multiple independent review sites."
Bedrock Quartz has been building people's dream kitchens and baths since 1976, with over 160 employees installing, on average, 30 kitchens per day. "Our team will handle everything so you can focus on planning wonderful activities in your new space to bring friends and family together. We'll treat you, your home, and your time with the respect you deserve, ensuring an experience you will love," Jorgensen said.
Ready to get started? Visit BedrockQuartz.com today to book an appointment or to get an instant free quote.
×
More stories you may be interested in