CEDAR RAPIDS — Motorists can expect to see more construction on another stretch of Mount Vernon Road SE in the coming year.
The Cedar Rapids City Council this week gave the go-ahead to a project that's been in the works for about three years to reconstruct the roadways on 10th Street SE, Eighth Avenue SE and Mount Vernon Road SE to create a roundabout at the high-traffic intersection near McKinley STEAM Academy, Mercy Medical Center and other businesses.
In addition to the roundabout, the project includes work on the storm sewer, sidewalks and removal of an existing pedestrian overpass, said Tim Mroch, the capital improvement program manager. And there will be a high level of streetscaping along Eighth Avenue and 10th Street SE.
Stakeholders in the project included the MedQuarter Regional Medical District, Mercy Medical Center and the Cedar Rapids Community School District.
Funding for the estimated $9.9 million project comes from a mix of sources: an Iowa Department of Transportation safety grant, the MedQ, storm sewer, sanitary sewer and water funds, as well as tax increment financing dollars. Bid letting is slated for Aug. 2 with construction scheduled to start this fall and wrap up in 2025.
Separately, a two-year, $7.8 million project is underway to improve the major east-west road between 14th and 20th streets SE. That project is funded by the 1 percent local-option sales tax approved by voters, known as "Paving for Progress."
That work includes a new asphalt surface, intersection improvements at 15th Street and 19th Street SE, raised medians with concrete pavers and a new sidewalk on the south side of Mount Vernon Road between 15th and 19th streets SE.
Mroch said there has been coordination to ensure "seamless" work on both projects simultaneously.
The Mount Vernon Road Corridor Action Plan, adopted by the City Council in 2017, highlighted the need to improve the street's aesthetics, cut down on visual clutter, enhance traffic safety and boost walkability.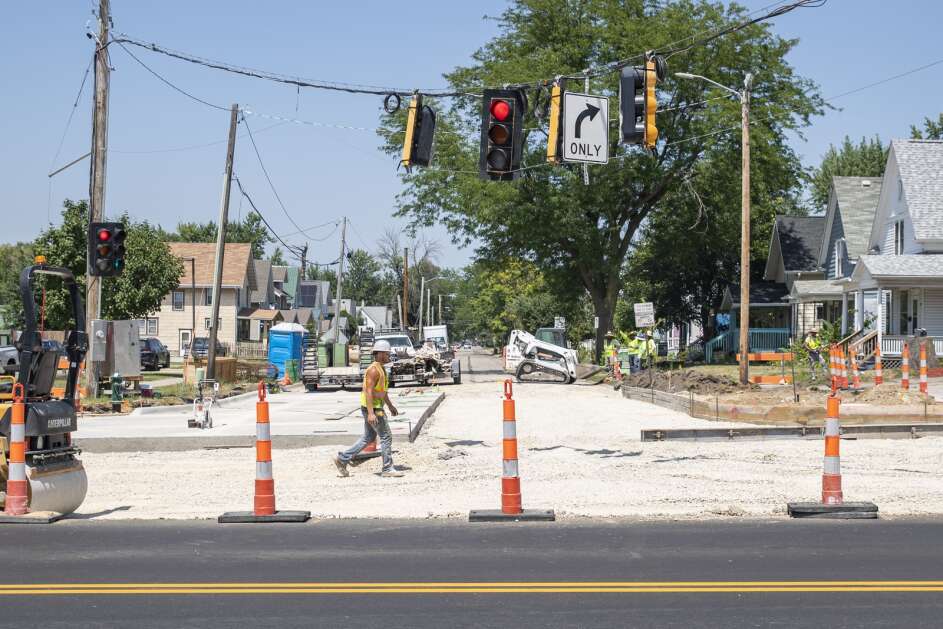 Dorothy de Souza Guedes, representing the Oak Hill Jackson Neighborhood Association, raised concerns about increased traffic through the neighborhood that work may generate. The neighborhood already has seen impacts from the current Mount Vernon Road construction, she said.
She also asked for better signage and flashing stoplights to diminish confusion among motorists passing through the neighborhood. She said there should be better planning and ongoing communication of projects with the neighborhood, though she said she appreciated city staff's presence at monthly neighborhood association meetings.
"There should be as much effort and communication with the people who already live there as a school … or a business or a nonprofit district," de Souza Guedes said. "That construction project is rerouting traffic through our neighborhood in ever-changing ways. It's kind of a game — how do we get through the neighborhood today? This is going to make it a lot worse."
Mroch said because the new intersection will be a roundabout, speeds will be much lower at each crossing. There also will be a flashing beacon at each crossing.
With council member Marty Hoeger absent, the nine-member council approved the project in a 7-1 vote Tuesday. Council member Pat Loeffler opposed out of concerns for the safety of roundabouts.
"I feel we need a more controlled intersection, something like that," Loeffler said.
Council member Ashley Vanorny said in District 5, the area she represents encompassing much of the southwest quadrant, roundabouts have been put in as traffic controls to slow down traffic that was causing crashes.
"There are not accidents like there were before," Vanorny said. "They actually are a deterrent from that."
Council member Dale Todd, who represents District 3, which encompasses the urban core, said the road gets a lot of traffic, especially when other streets are closed to allow for construction post-2008 flood as the city continues to rebuild.
"Mount Vernon Road is a major artery into the heart of the city," Todd said. " … This city has been under construction for 10 years and it's going to be continue to be. With that comes some heartache."
On the morning and evening commutes in particular, Todd said, thousands of motorists use the street. That figure is likely to continue to increase as the city grows, he said.
"When it's all said and done, it's going to clean things up so much down there," Todd said. "I hope I'm still alive when Mount Vernon Road construction is finally completed."
Council member Scott Olson said construction has changed traffic patterns around the city, but cited First Avenue work as a project where contractors have done a nice job of marking changes.
He said council members often hear complaints about a lack of sidewalks or streets not getting improved, but as Paving for Progress continues and more street work occurs, there's a reverse complaint where no one wants to deal with the temporary consequences of construction.
"People have adapted and First Avenue is busier than what this street is," Olson said. "People have survived."
Comments: (319) 398-8494; [email protected]