ren hongfei embraces raw materiality of wood 
At the third annual edition of the Designew exhibition at Shenzhen, China, Ren Hongfei presents his new wooden furniture collection, WEIMAN. In a celebration of raw materiality, and primitive craftsmanship, the series embraces the unfiltered, organic essence of wood. Each of the four furniture objects are composed of basic modular, semi-cylindrical forms arranged in various configurations with minimal intervention by the designer. With these dark monolithic bodies of the benches, stools, and tables, Ren Hongfei tackles the rigidity and 'indifference' brought by industrialized standard manufacturing to furniture products. Rethinking industrial production, WEIMAN embraces the vitality of organic, natural materials and forms his furniture out of wood logs — preserving their rough textures, rounded forms and robust presence.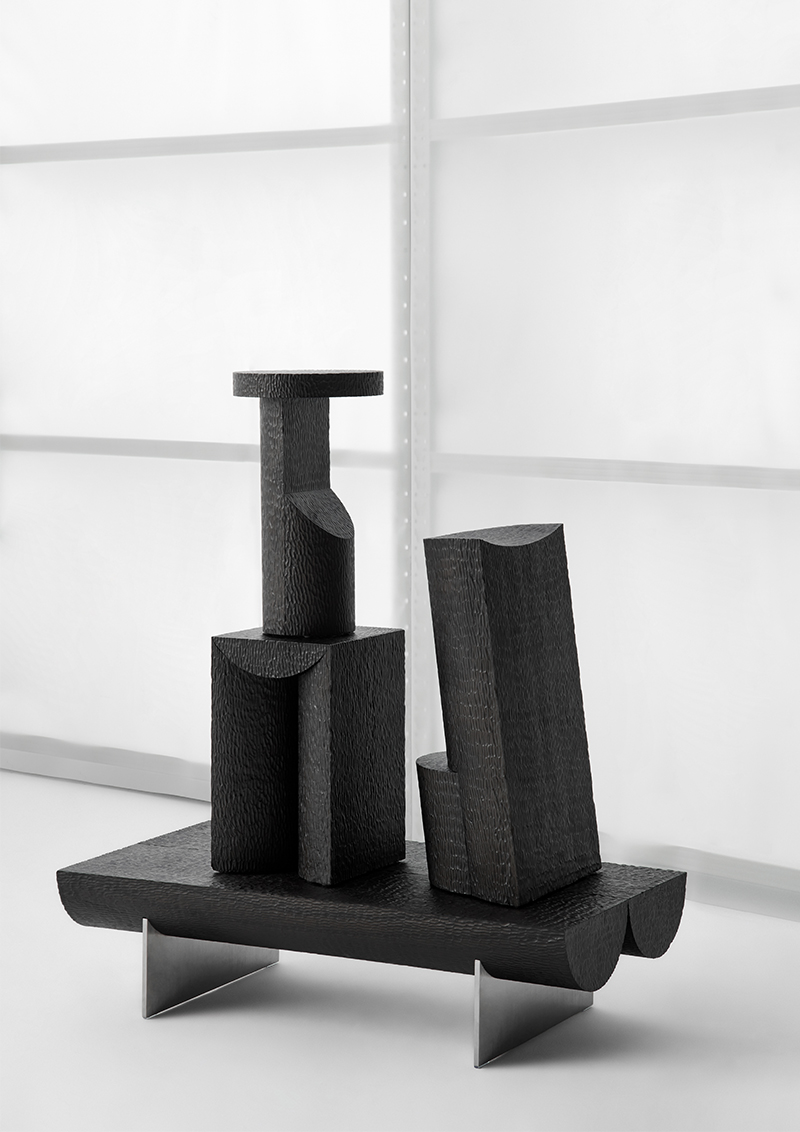 all images by Xu Xiaodong
various configurations of semi-cylindrical wood logs
Along the theme of the Designew exhibition, Ren Hongfei questions mass-market production processes of design objects which often contribute impersonal craftsmanship and material waste. The furniture objects of WEIMAN retain the organic, simple presence of its sole material — logs of wood. In a basic design language, the concept of WEIMAN begins with the most fundamental functions and users' desires in mind. 'Expressing the oriental creation concept of restraint and balance', the Shanghai-based furniture designer uses as little intervention as possible to seamlessly transform the wooden logs into functional, finished products.
The four pieces of black furniture that comprise the collection are all various configurations of the basic element of the semi-cylinder, composed in different logical relationships and left mostly in their raw form. Ren Hongfei achieves the organic semi-circle modules by simply sawing the cylindrical logs of wood in half. The traditional, natural blemishes on the surface have been preserved, expressing the raw beauty of wood, while the additional hand-chiselled production marks and treatments offer bold expressions of individuality and vitality.

Ren Hongfei premiered WEIMAN at the 2022 annual Designew exhibition in Shenzhen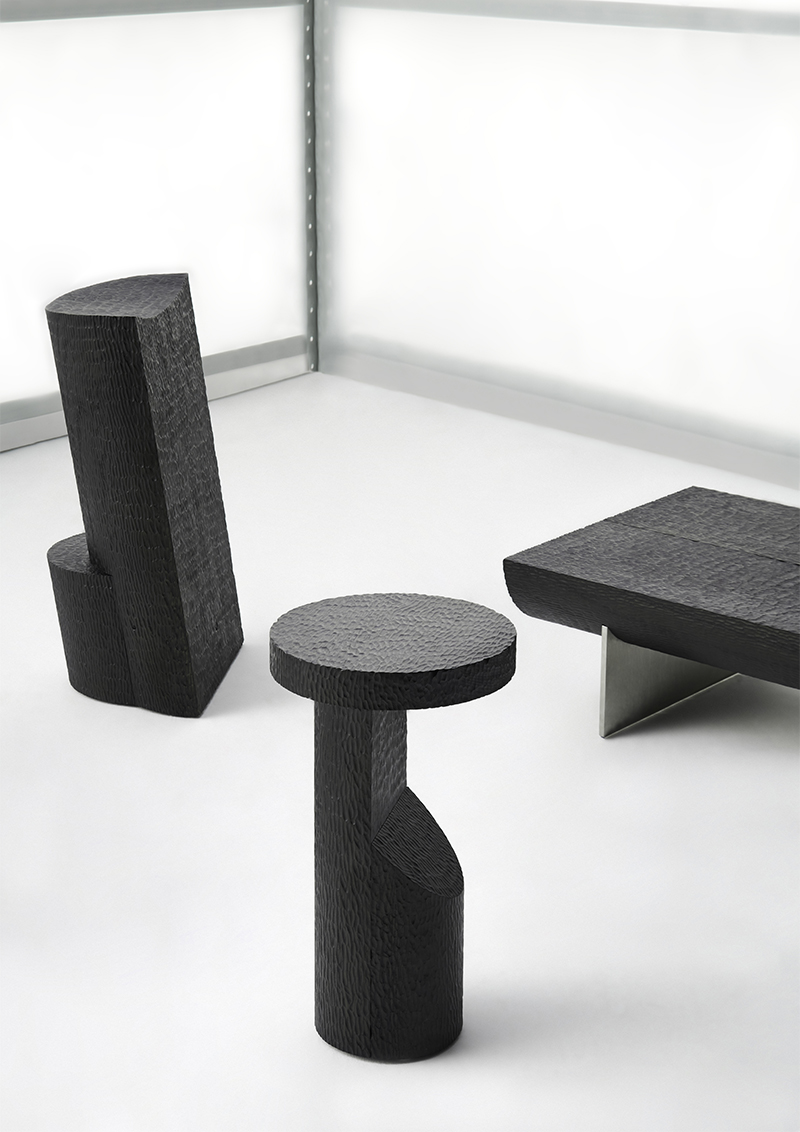 the project rethinks industrial production and embraces simple, minimal forms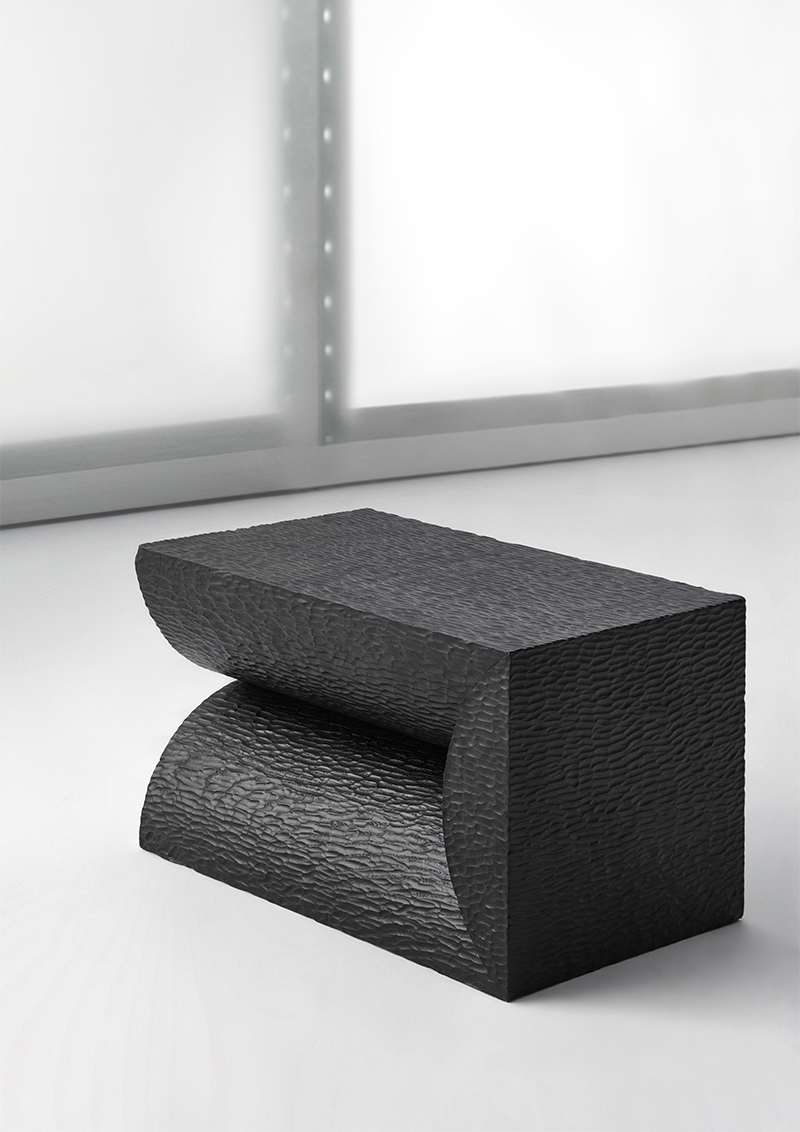 Ren Hongfei achieves semi-circle modules by simply sawing cylindrical logs of wood in half