When planning a new bathroom, there are lots of decisions to be made in order to achieve a space that is functional, stylish, durable, and on budget. Laying out and assessing the first things to consider when remodelling or designing a new bathroom can help the process feel more manageable. 
The best way to plan a new bathroom is to first consider these most crucial elements which will then determine the other steps in your project.
Our experts have laid out the top seven things to think aboutwhen planning a new bathroom, whether you are designing a small bathroom or a large bathroom, a space for the whole family, or a private ensuite.
The first things to consider when planning a new bathroom
While style and aesthetics are one of the forefronts of design, bathrooms must have extra consideration paid to how each design feature can withstand the temperature and humidity fluctuations in order to choose the most suitable options. 
1. Define your goals and needs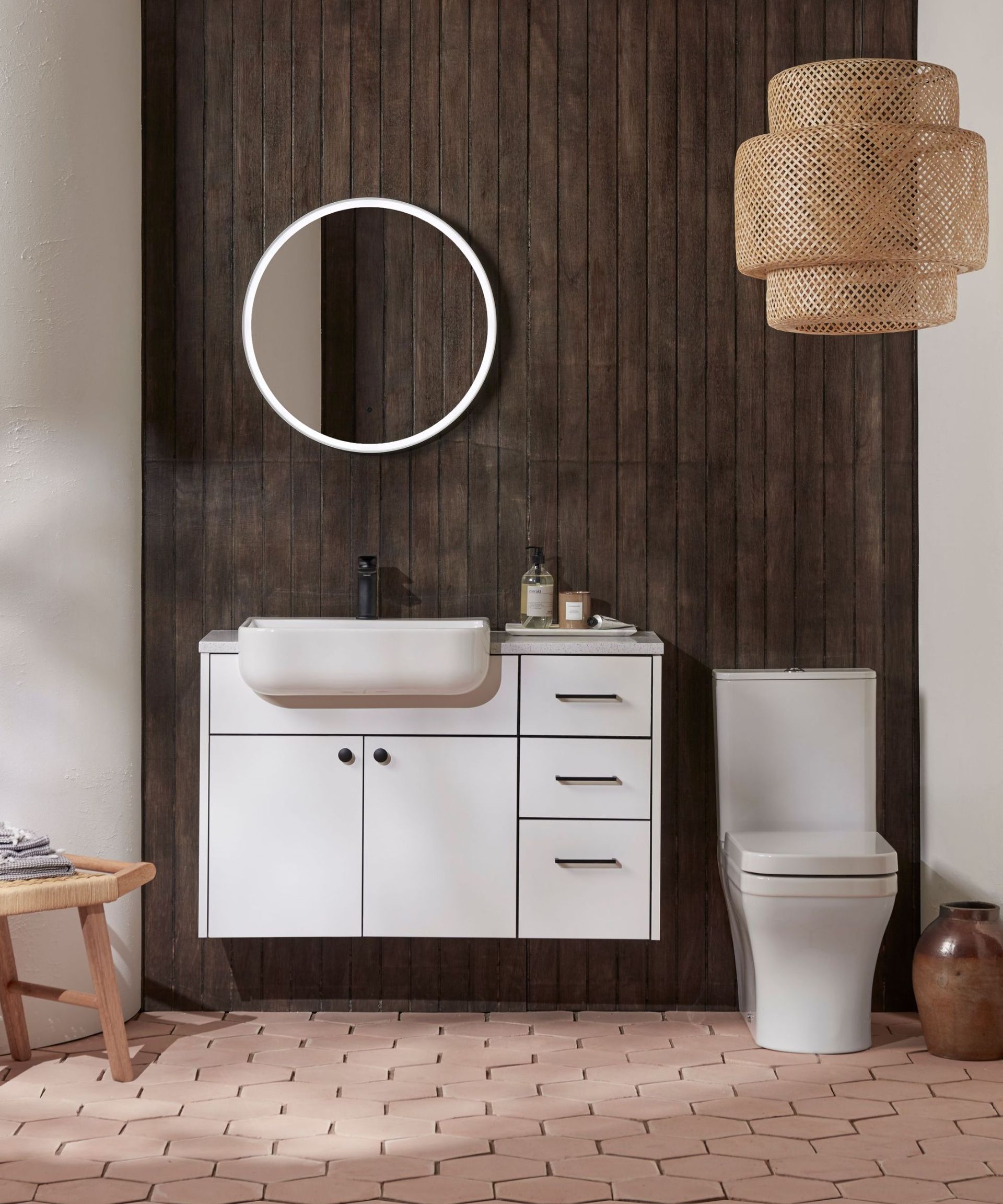 Before embarking on a bathroom renovation, it's crucial to clearly define your goals for this space and the needs of those who will be using it. 
Artem Kropovinsky, founder of Arsight says, 'Before aesthetics, understand the primary function of the space. Consider who will be using the bathroom and for what purposes. A master ensuite has different needs from a powder room and a family bathroom and a guest bathroom will require different considerations.' 
Thinking about how the space will be used day to day will help you make design decisions that cater to the specific requirements of the space. 
For example, when planning a master ensuite, you may wish to prioritize luxury and relaxation by incorporating a spacious shower or bath, ambient lighting, and a double vanity, while a family bathroom should focus on functionality and durability with ample storage for towels and kids' essentials.
Based in New York, Artem Kropovinsky, founder of Arsight, has a decade of extensive and considerable global design experience. Prioritizing minimalism, sustainability, and authenticity, Artem, alongside his team of professionals, works on projects in the US and worldwide.
2. Budget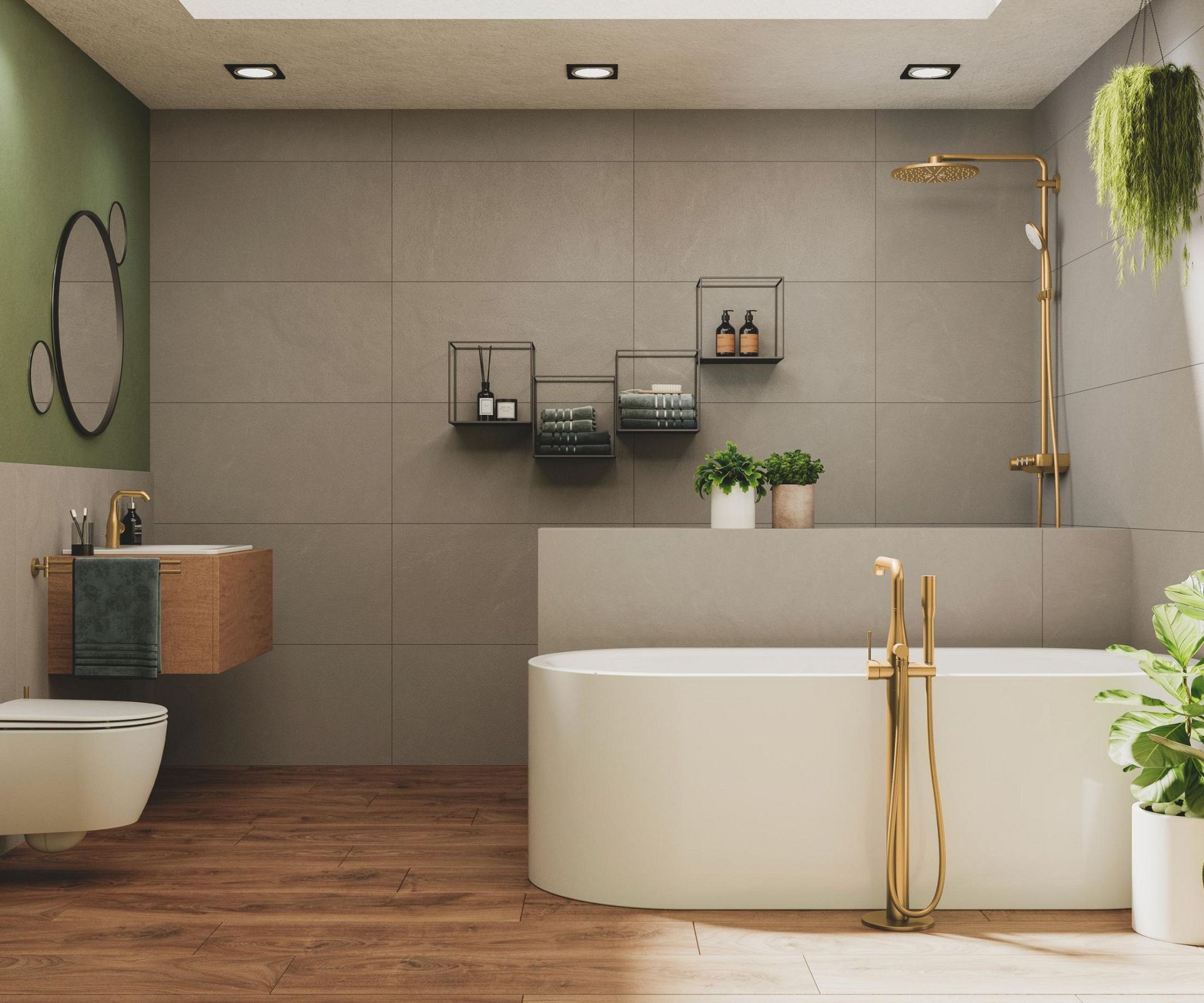 'Establishing a realistic budget is a critical first step in planning a new bathroom,' says Hashi Mohamed, president of Ivy Cleans. 'Your budget will influence the choice of materials, fixtures, and the scope of your renovation. It's important to strike a balance between your design aspirations and financial constraints. 
'When setting a budget, consider not only the cost of materials and labor but also any unexpected expenses that may arise during the project. 
'By having a clear budget in mind, you can make informed decisions and avoid overspending.'
You can check out our guide for how much a bathroom remodel costs.
3. Layout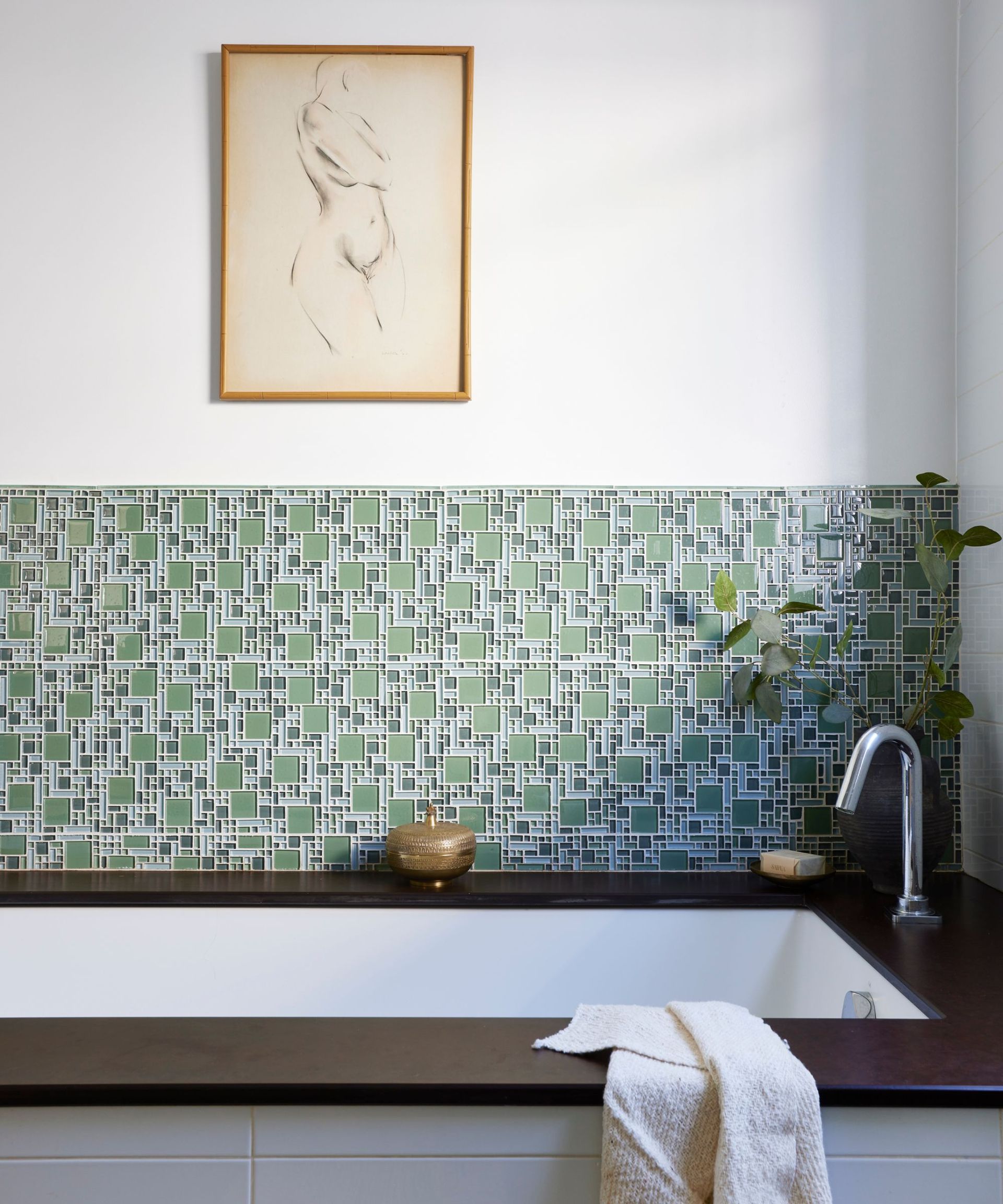 Efficient space planning is essential for a well-functioning bathroom. This includes carefully assessing the available space to plan the layout in order to maximize usability, including determining the ideal placement of fixtures, storage solutions, and prioritizing manoeuvrability. Consider the flow and accessibility of the space, making sure that the layout suits how you intend to use the space.
'Regardless of size, a bathroom should be a place where one can maneuver with ease. This includes thinking about the layout of the plumbing fixtures, storage and perhaps component upgrades,' says Karen Miller, owner of the Miller Design Group. 'Space planning leads to discussions about aesthetic choices, where I often find clients swept away in a sea of beautiful yet overwhelming choices.'
Felix Naundorf, interiors expert and founder of Bummelwelt says the best thing to do is to look at the available square footage and how it can be maximized effectively. 'This may involve incorporating clever storage solutions, such as built-in shelving or vanity drawers, to minimize clutter and create a more organized environment.
'The goal is to create a space that is not only visually pleasing but also highly functional and efficient.'
You must also consider the electrical and utility lines to determine the possibilities of the bathroom layout. Assess the existing plumbing and electrical systems.
'This is going to potentially dictate where you can and can't put key fixtures like the shower, toilet, and sink, and also have a major impact on the overall cost of the project,' advises Martin Orefice, the CEO of Rent To Own Labs. 'Ideally, you'll be able to tap into nearby water lines for your fixtures and won't have to run several feet of extra pipe through the walls or ceilings.' 
4. The finishes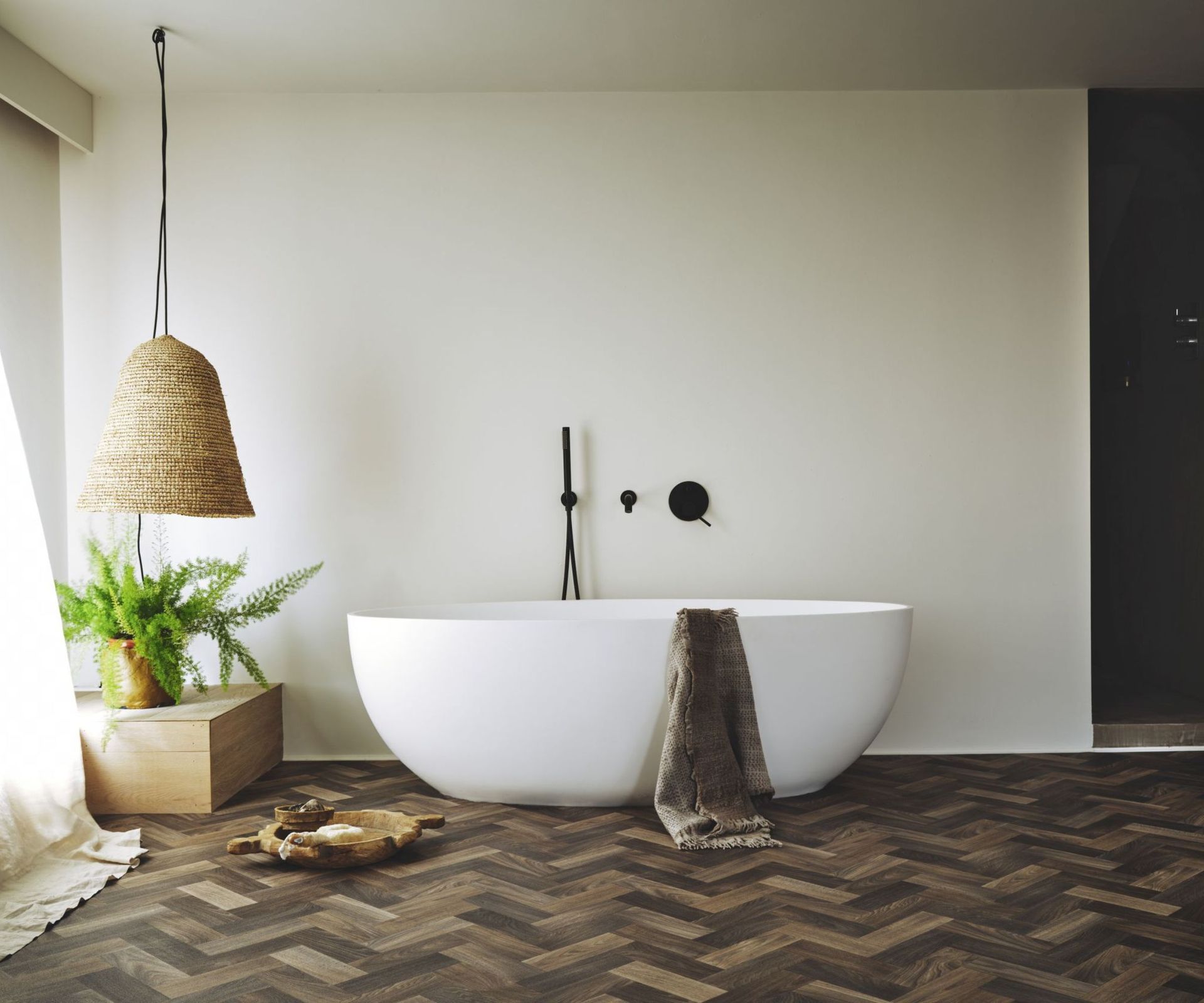 Of course, you'll want to think about how the space looks and the textures you want to include to create a relaxing and uplifting atmosphere. For example, for a cohesive feel, you might prefer to use fewer different finishes and stick to a pared-back color scheme. On the other hand, natural wood, wicker, and antique brass will create something more homey and potentially more visually interesting.
'For a luxurious look, consider incorporating high-end materials such as marble, brass or crystal accents,' suggests Helen Pett, design ambassador at Arteriors London.
Bear in mind that your choice of materials in a bathroom also needs to account for the fact that bathrooms are inevitably high-moisture, and selecting the right materials is crucial for long-term durability. Materials such as porcelain or ceramic tiles are ideal as well as moisture-resistant drywall, and cabinetry with waterproof finishes. You can find moisture and mold resistant drywall and waterproof sealant at Amazon.
'For areas that are exposed to moisture regularly, such as bathrooms, it is important to use the right paint to avoid mold and mildew growth. Paints such as our Aura® Bath & Spa are specifically designed to stand up to humidity and allow for an easy to clean, finish,' recommends Helen Shaw, Director of Marketing at Benjamin Moore.
5. Flooring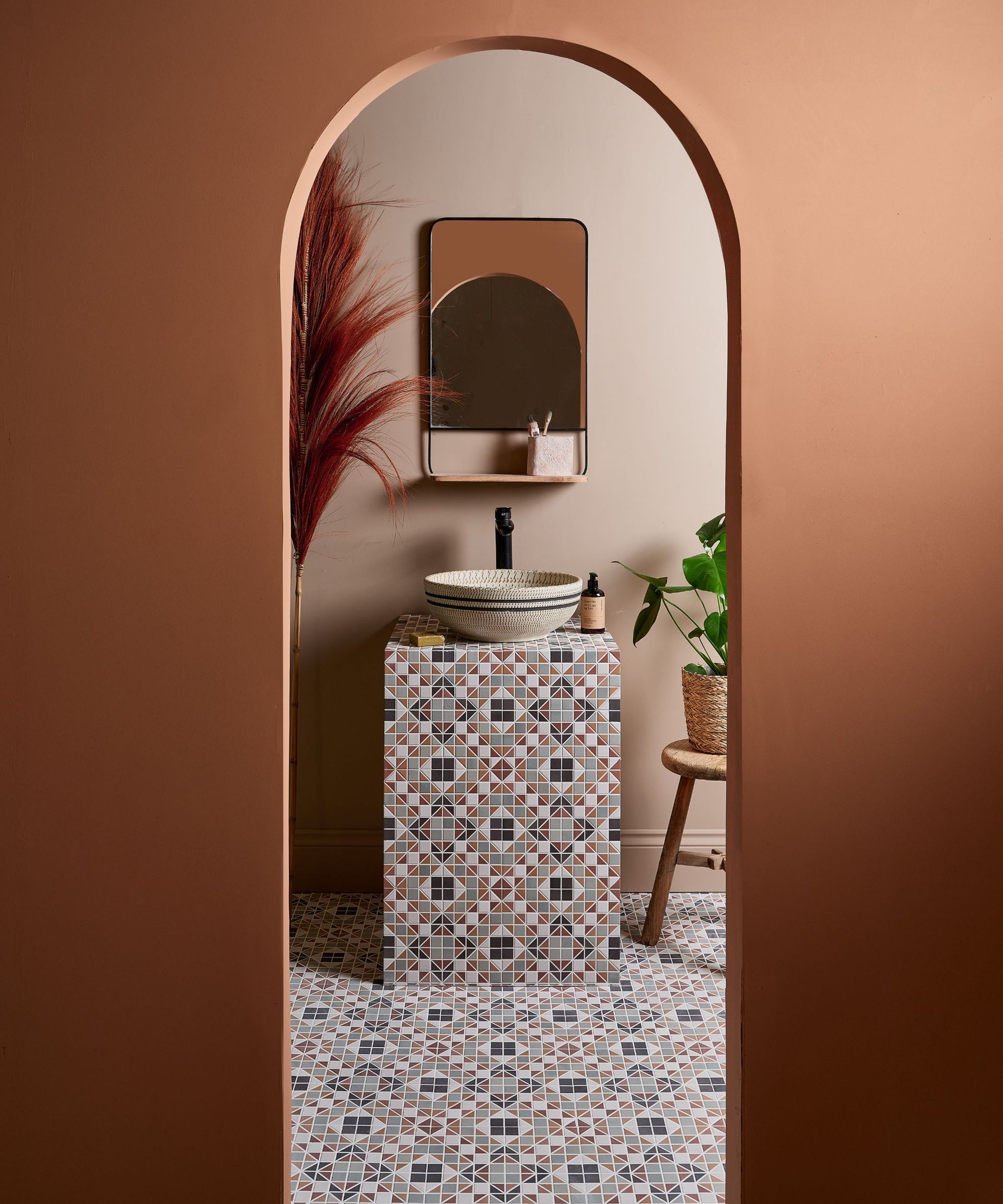 'When planning your bathroom design, it's important to prioritize both practicality and style with regards to the bathroom flooring,' recommends Sam Way, at Carpetright. 'Waterproof, slip-resistant, and comfortable vinyl flooring is a great route to take as it's an inexpensive way to add color, pattern, and personality without compromising on safety or quality.
'If you've got a more generous budget, luxury vinyl is a great alternative. It offers the same benefits as vinyl but with a high-end look and feel. From wood flooring styles through to stone effect designs, you can achieve an incredibly realistic finish while investing in something highly durable and hard-wearing.'
You should also consider how durable the materials you are using are, how costly they will be, and how to contribute to the overall aesthetic. You can check out our guide for the best flooring in a bathroom.
6. Lighting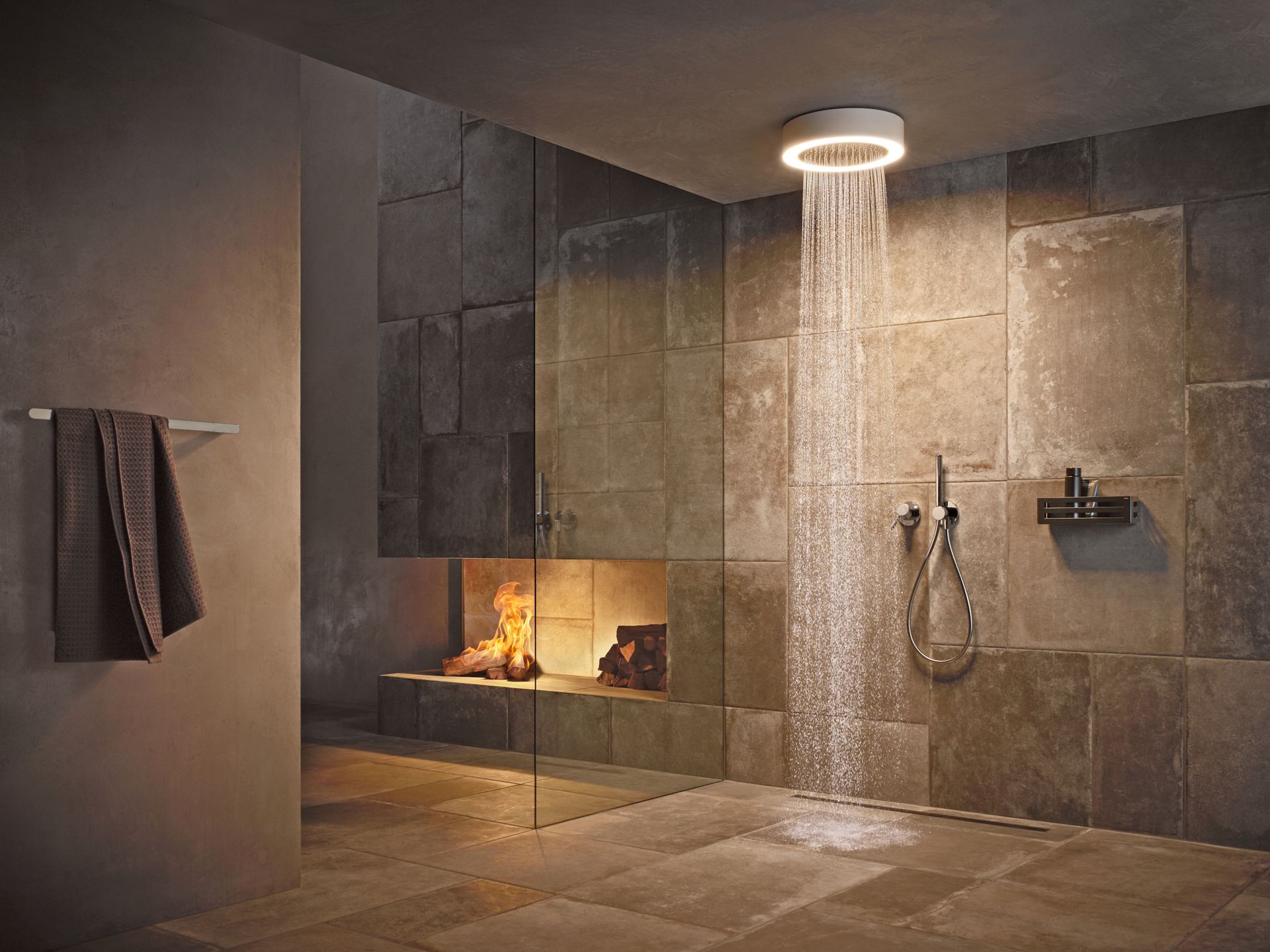 'Often left to the last minute, lighting is key in the bathroom – there are both practical considerations and stylistic choices to make, so ensure this is part of the planning from the get-go!' advises Jo Plant, head of design at Pooky.
You can incorporate a mix of ambient, accent, and task lighting to ensure you can achieve a relaxing and welcoming space to relax in as well as highlighting key areas such as vanity mirrors and sinks, shower areas, and storage.
For example, wall sconces, a lighted mirror, and under-cabinet lighting can provide focused illumination for grooming and other tasks, while dimmable fixtures can set the mood for relaxation. We love this light rods LED sconce, from West Elm.
Consider installing windows, skylights, or light fixtures strategically to ensure proper illumination. You may even want to consider installing a shower LED light that can be adjusted from daylight white for a refreshing start to the day to a warm white for a relaxing shower in the evening.
You can find this smart home must-have, the BIGMONAT dimmable shower light at Amazon.
7. Ventilation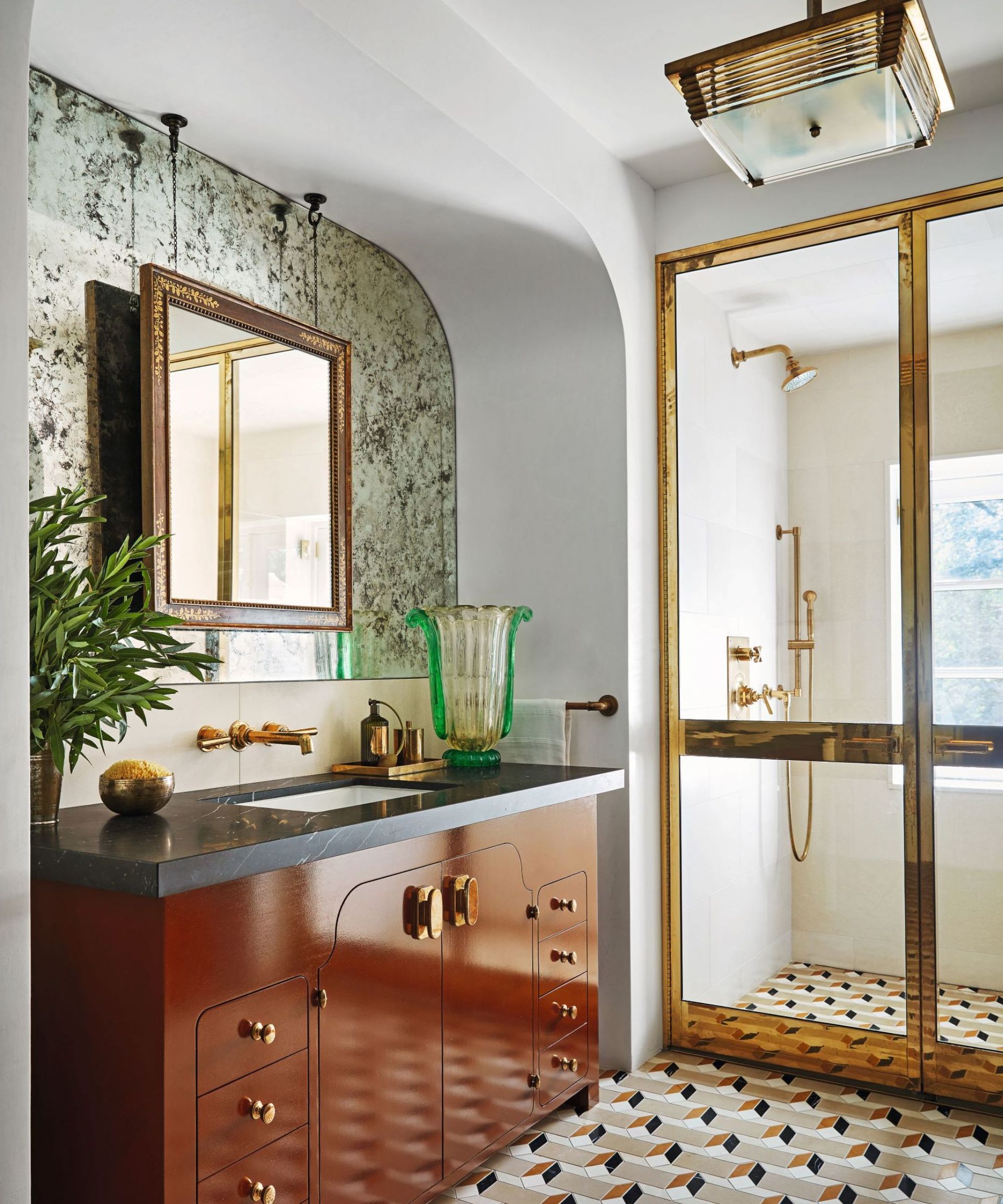 As a space with fluctuations in temperature and humidity, proper ventilation is essential when planning a new bathroom.
Inadequate ventilation can result in excess moisture, which promotes the growth of mold and mildew. This may also cause the paint or wallpaper to peel and damage wooden fixtures over time. 
Furthermore, insufficient ventilation can also lead to lingering odors in the bathroom.
Austin Fain, owner of Perfect Steel Solutions advises, 'Ensure proper ventilation in the bathroom to prevent mold and humidity issues. This may involve installing an exhaust fan or ensuring windows are adequately sealed.'
FAQs
How can I design a bathroom to make it more sustainable?
To design a bathroom to make it more sustainable, consider eco-friendly and water-saving options, such as low-flow toilets, energy-efficient lighting, and sustainable building materials. These eco choices can also save you money in the long term.
---
While in a powder bath you might choose to make more of a statement, it's generally recommended to align your bathroom design with the rest of your home's design, so think about colors and patterns that will feel in keeping with the adjoining rooms. 
The bathroom should feel indulgent and soothing, so whether it's adjusting the layout to make it more spacious or adding in a double vanity, keep day-to-day comfort, convenience and calm in mind.