If there's any room that needs to be cozy in winter, it's the bedroom. With dark evenings and frosty mornings, there's nothing like having a warm, ambient, and relaxing space to escape to. While redecorating your bedroom from season to season is not a practical solution, there are plenty of ways to make your bedroom feel cozy all year round, as well as quick updates you can make to prepare your bedroom for the winter months. 
'For us, a bedroom is one of the most private and intimate spaces of the home designed for relaxation. The bedroom is where you go to get away and cozy up, which becomes ever more important in winter when it's cold outside,' says Alexandra Azat, CEO and principal designer of Plaster & Patina. 'It's important to design a warm, comfortable space full of texture and surrounded by the things you love where you just can't wait to layer up in bed.' 
From the colors, materials, and textures we surround ourselves with, a carefully considered lighting and window treatments, there are plenty of ways to make a bedroom feel cozy. Here we asked the experts for their tips and ideas.
10 incredibly cozy winter bedroom ideas 
When we consulted the industry's top interior designers for their tips on creating a cozy bedroom for winter there were some key ideas that came up again and again. Here we've rounded up their expert advice along with an array of beautiful schemes guaranteed to inspire from Alpine chalets and rustic cabins to chic urban apartments and rooms that capture quiet and timeless luxury. 
1. Layer warm neutral tones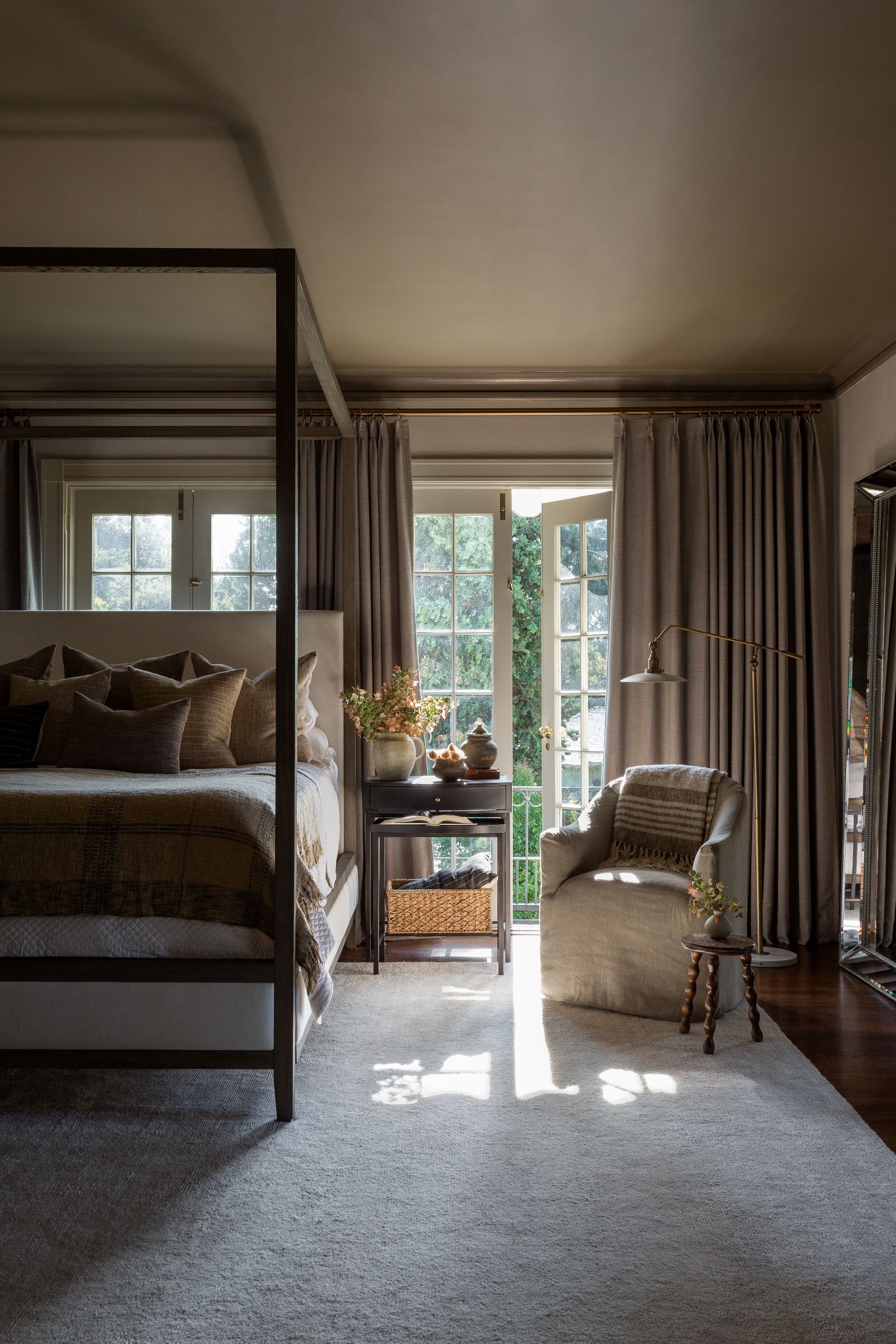 Bedroom color ideas have a huge impact on the mood of a room. Generally speaking, experts agree that warm, earthy wall colors will bring a room in, while cool colors will make it feel more open and spacious. If you're looking to create a cozy winter bedroom then decorating with neutrals will create a comforting and cocooning feel. This beautiful bedroom by Plaster & Patina is a masterclass of layering neutrals to create a soothing sanctuary.
'Since this bedroom was oversized, we layered warm and neutral textures and tones to create a cozier feel. We chose a slightly deeper color on the ceiling and crown molding – Mouses back by Farrow & Ball – which brings the ceiling down, making the space feel more intimate,' explains Alexandra Azat, CEO and principal designer.
A true believer in following her passion, Alex launched her first creative business, Blush Event Designers at the age of 23, where she created spaces for a discerning clientele ranging from BVLGARI to Aaron Rogers.  After purchasing her first historic home, built in 1915, and turning it into the home of her dreams, a passion for interior design was ignited. After a 15-year career in the luxury event space, she pivoted her company to focus on interior design and in 2019 launched as Plaster & Patina, where her specialties center around respectfully breathing new life into old homes and in the creation of newly built homes that contain soul and old world charm.  
'The walls are treated with a roman clay finish – Piano Room by Portola Paints – adding a natural, grounded, and subtle texture. We used slow transitions between shades and tones, keeping contrast to a minimum,' adds Alexandra. 'We also utilized slightly darker bedroom curtains to cover large, expansive walls and a very oversized, high pile area rug. The use of deeper shades and soft materials makes the space feel inviting and relaxed.'
The added benefit of opting for neutral tones is that they offer a versatile blank canvas for seasonal styling. Simply switching cushions, throws, lampshades and other accessories from season to season is a wonderful way to decorate to reflect the time of year. For winter, try adding in accessories in rich warm colors such as terracotta, burgundy, and damson.
2. Experiment with dark wall colors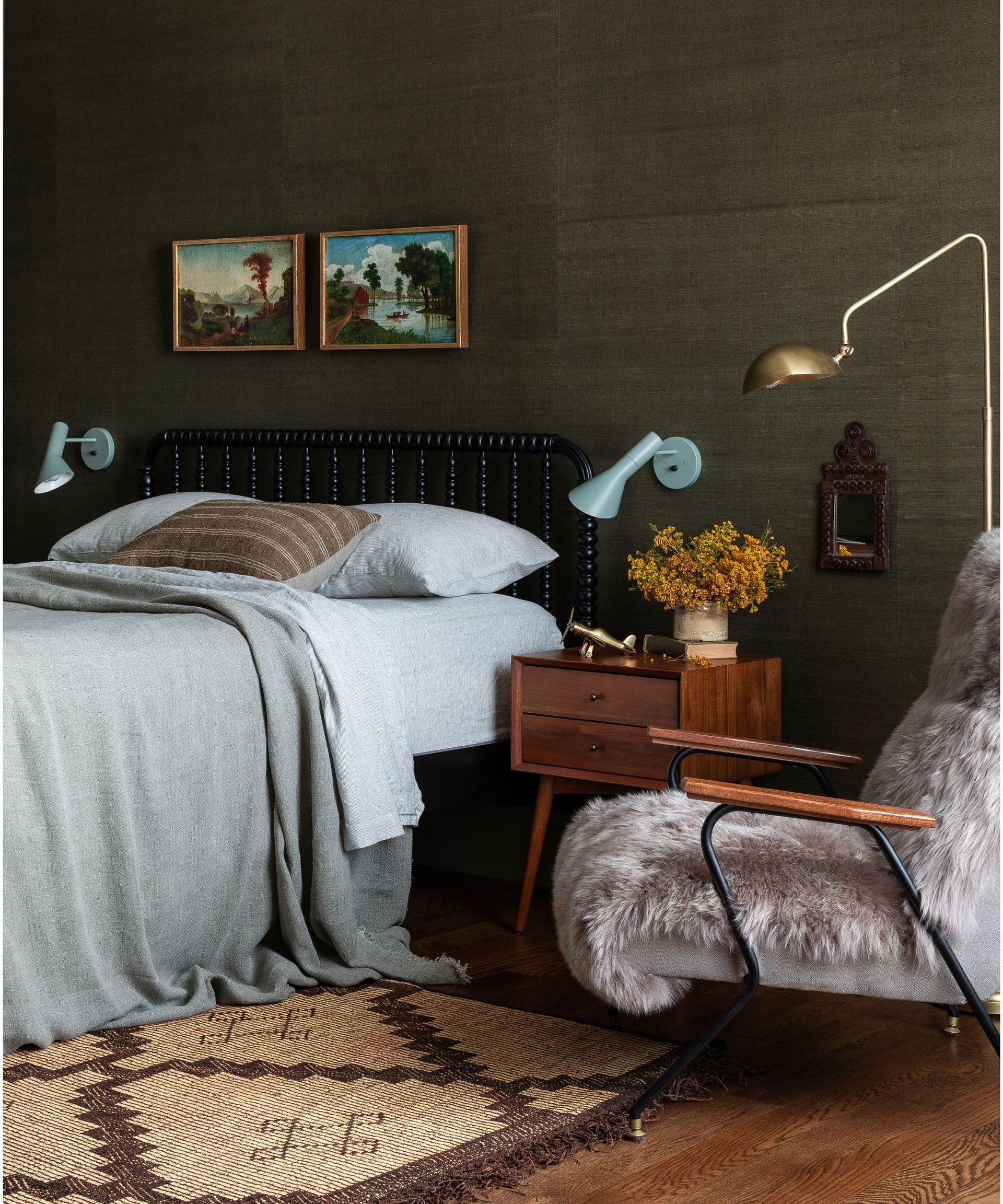 Dark bedrooms are a daring choice, but they can look hugely stylish and, in winter, can feel wonderfully atmospheric and cozy. In this project, interior designer Heidi Caillier chose a fabric wallpaper in a deep navy which brings beautiful texture and rich color to the space creating a luxurious, intimate feeling. The addition of a cozy armchair topped with a sheepskin throw makes a lovely spot for curling up with a good book while the burnished floor lamp brings additional warmth.
'Layering in color, print, and texture to a bedroom will immediately create a cozy and warm environment,' explains Heidi Caillier. 'I'm always drawn to muddy, rich paint colors, especially in bedrooms. Some of my current favorites are Farrow & Ball's Cardamom and Benjamin Moore's Classic Burgundy.'
Seattle based interior designer Heidi Caillier creates timeless and intimate interiors that celebrate nostalgia, design heritage and the handcrafted. A master of effortlessly mixing old with new, Heidi has worked on an array of high end residential and commercial projects alongside her small team and is included in the prestigious 1st Dibs 50 List for 2022 and 2023. 
3. Decorate with natural materials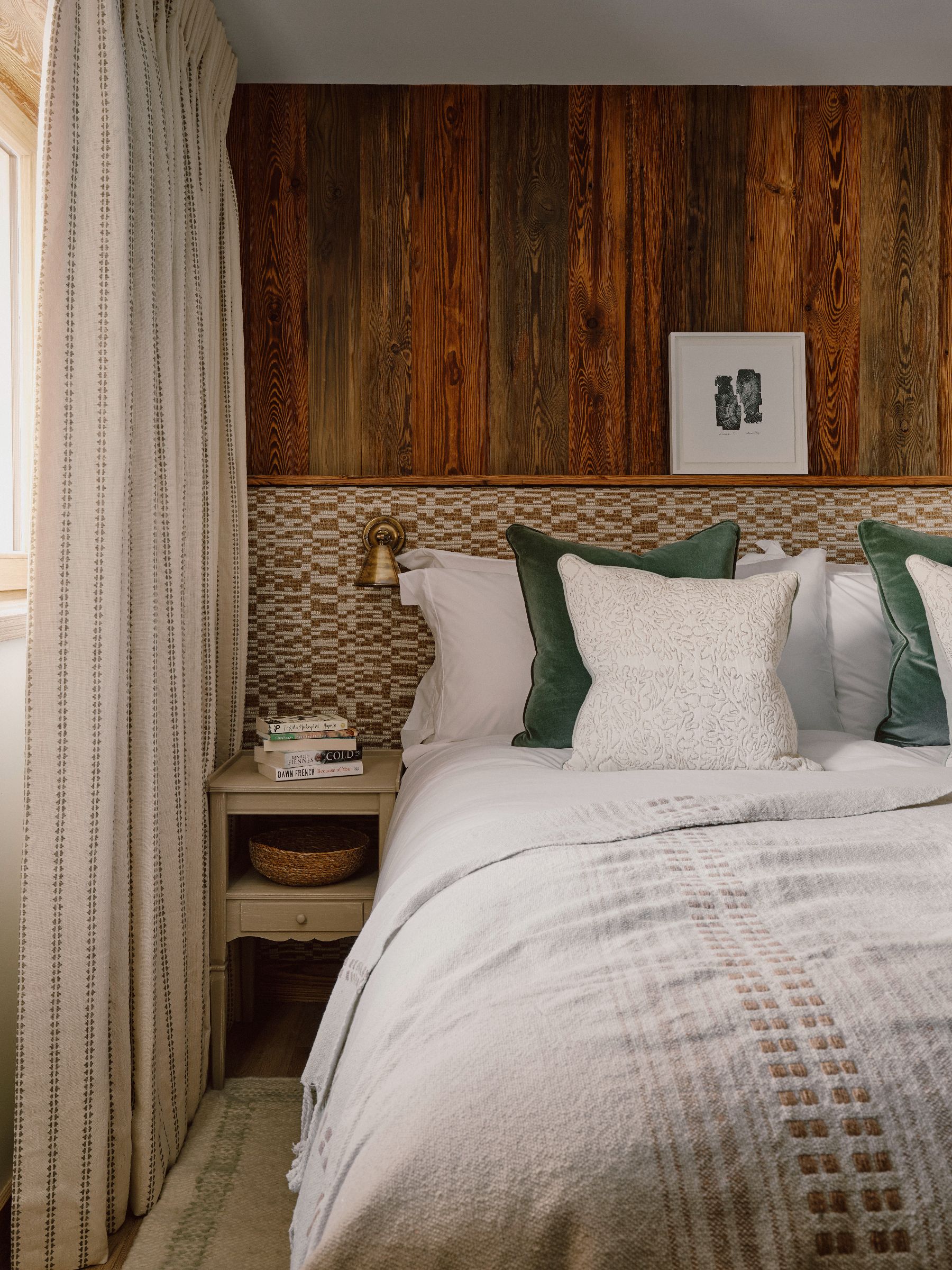 When it comes to creating the ultimate winter bedroom many interior designers suggest looking to nature for inspiration. Embracing natural materials with beautiful varied patinas such as wood and stone, along with natural fabrics and textures, will instantly make a space feel relaxed and lived in. Think luxurious and tactile chunky wool weaves, bouclé fabrics, slubby linens, velvet, mohair, and sheepskin.
'Soft textures and tactile fabrics are key to relaxing the body. It is important to connect nature using any views of the outside while also bringing through colors and patterns that reflect this,' says Amy Dalrymple, creative director at Dalrymple Studio. 
'Using natural fibers for bedding such as linen also has many benefits for example regulating your body temperature and the creates. It's also said due to the microscopic threads to have a subtle massaging effect on the skin.'
4. Embrace upholstery and fabrics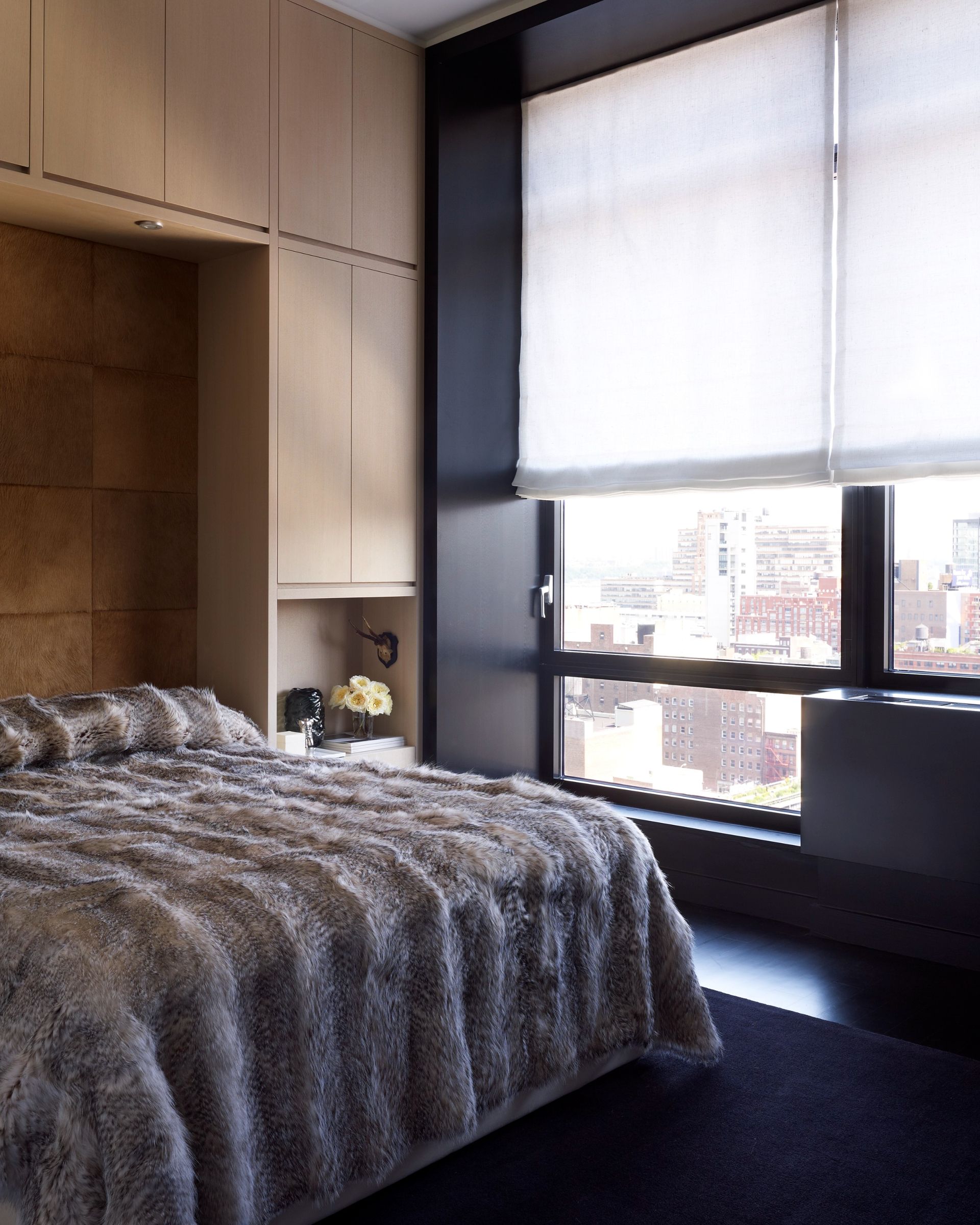 Taking a similar view to Amy Dalrymple, for David Mann, president of MR Architecture + Decor,' the art of winterizing a bedroom lies in the careful selection of fabrics, and the creation of a harmonious space that exudes both style and warmth.' 
As demonstrated in this chic, sophisticated apartment, he suggests to, 'embrace an abundance of fabric and upholstery to enhance the room's warmth. The more textiles present, the more the space will feel like a cocoon of comfort, inviting inhabitants to relax and unwind.'
5. Consider switching out your window treatments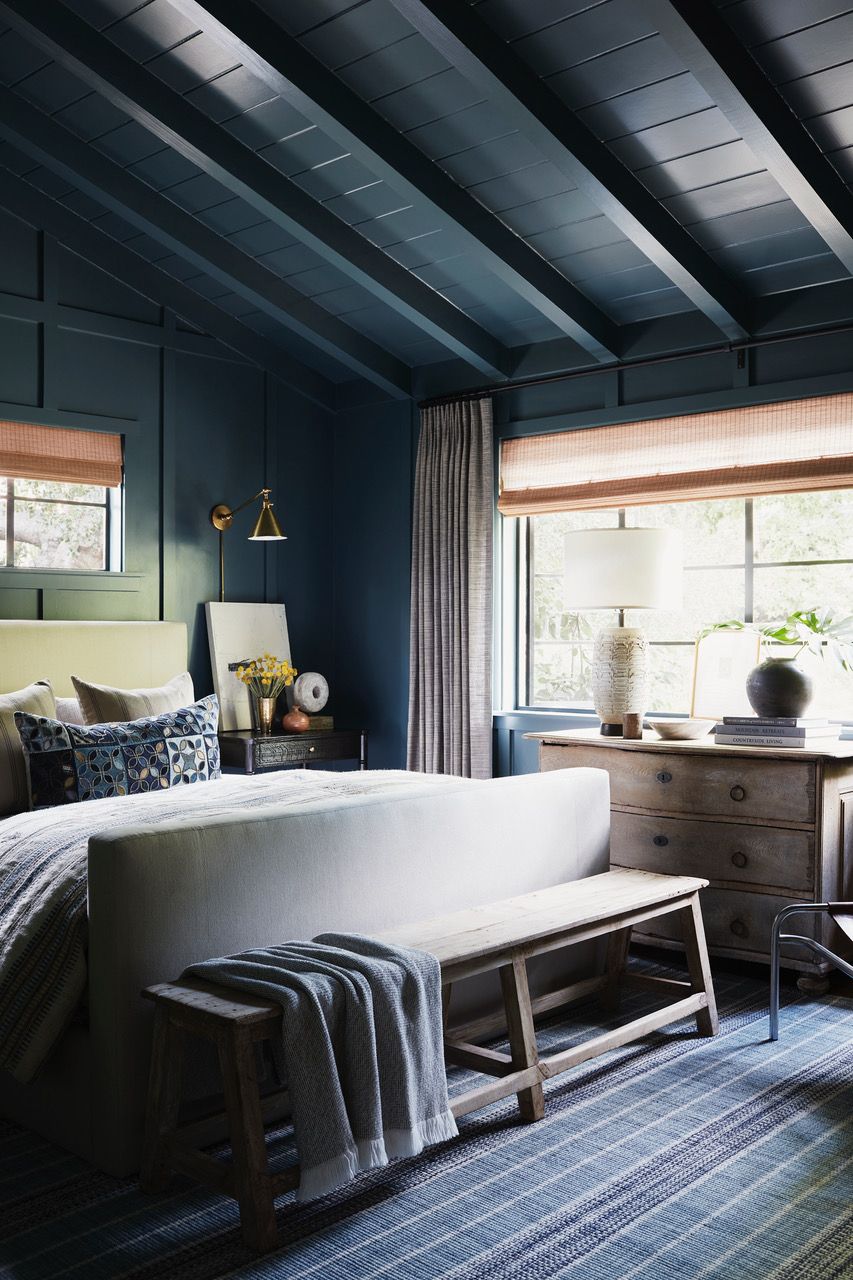 Window treatments are an important consideration in any bedroom, helping bring privacy and light control, but they also are vital in winter for keeping rooms warm and insulated. Of course, it's tricky having one type of curtain for all seasons – lightweight voiles and sheers are perfect for summer, but freezing nighttime temperatures call for far thicker drapes. One practical and versatile solution is to double up with blinds and curtains as done here by interior designer John de Bastiani in this stunning bedroom project which also exudes warmth and character with its layers of curated furniture and antiques. 
'This room is a wonderful mix of new. Bespoke upholstery and a Belgian antique chest of drawers are paired with layers of hand-picked accessories including a lovely Mid-century lamp, a cozy cashmere throw and a fun contemporary piece of art. The window treatments add yet another layer, the Rogers & Goffigon curtain fabric and Hartman & Forbs natural shades adds to the organic nature of the space.'
You could also try switching curtains from season to season, hanging lightweight material in summer and thick, interlined curtains in winter.
6. Incorporate plenty of mood lighting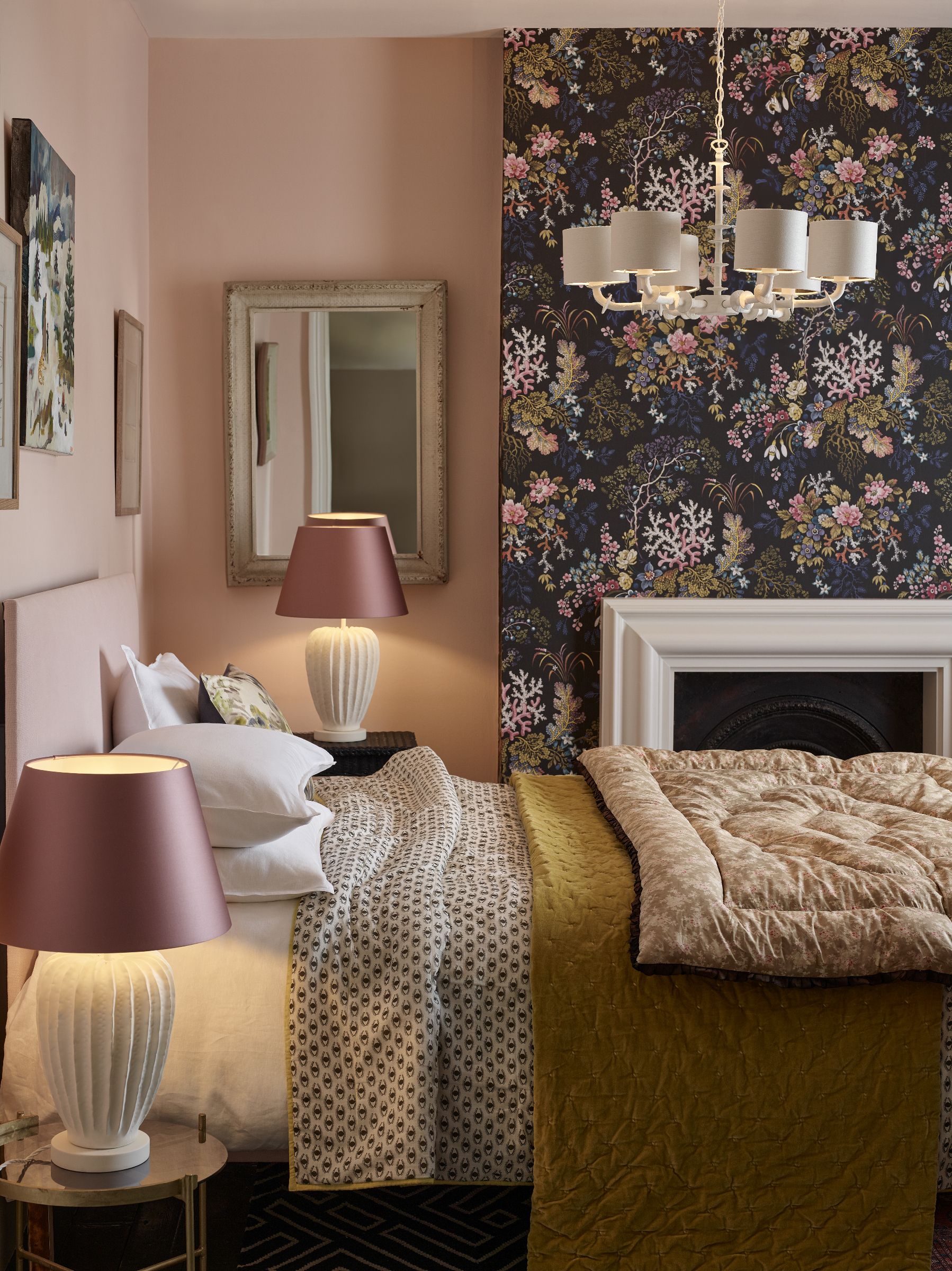 'There is nothing lovelier than retreating to a cozy winter bedroom on a cold dark winter's night,' says Hollie Moreland, creative director at David Hunt Lighting.
To create a restful and inviting winter bedroom, consider overhead bedroom lighting carefully, suggests Hollie, 'central pendants or lighting above your bed will be visible from below once you are snuggled up in bed, so avoid designs where a bare bulb is visible, as this will create a harsh and bright light. If opting for a drum shade opt for a design that incorporates a diffuzer to ensure the light is soft and relaxing.'
'Bedroom wall lights are a wonderful solution for creating cozy lighting, opt for an articulated design which can add a beautiful decorative touch and is perfect for reading in bed, as well as allowing for an uncluttered bedside table,' adds Hollie.
While there are a huge array of designs available, for a calming feel Hollie suggests, 'deep antique bronze or brass finishes combined with fabric shades in natural silk or linen in neutral, or deep restful tones, or a painted finish that coordinates with your walls. Deep greens and midnight blues are particularly relaxing hues perfect for elegant bedside lighting.'
If you're opting for a shaded table lamp on your bedside table, 'consider lining the shade in a bronze or gold, rather than white, as these warm metallic finishes will provide a beautiful relaxing warm glow,' advises Hollie.
7. Consider a canopy bed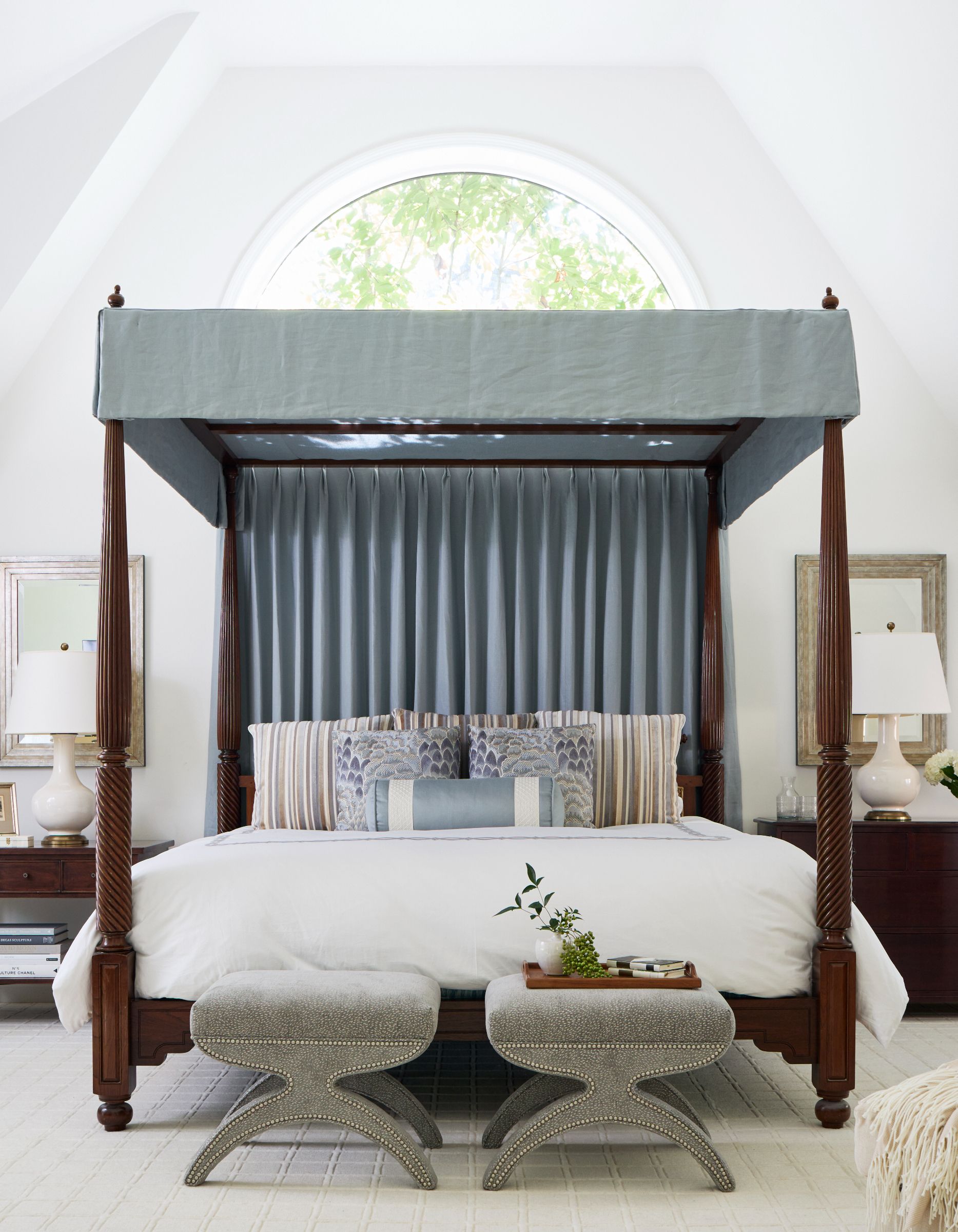 Canopy beds are back – we're seeing them everywhere and they are undoubtedly a wonderful way to make a large bedroom feel magical and cozy in winter, with curtained designs creating a cozy nook within a room. Practically the drapes will keep your sleeping area snug and insulated, but they also feel cozy and enclosed. 
'These clients had a wonderful canopy bed frame but with no canopy! The room is quite large with a tall ceiling, so adding a canopy and drapery to the bed created a cozy oasis within the space,' explains Annie Elliott, founder of Annie Elliott Design. 'We then built a peaceful, beautiful sanctuary around it.'
'Canopy beds are funny: they can add definition to a large area, carving out a private space within a big room; or they can fill a small room in a dramatic way. The amount of fabric required to create a canopy bed provides a wonderful opportunity to use multiple colors and patterns – the more detail you have in a petite bedroom, the more interesting and cozy the room becomes.'
8. Layer up plenty of bedding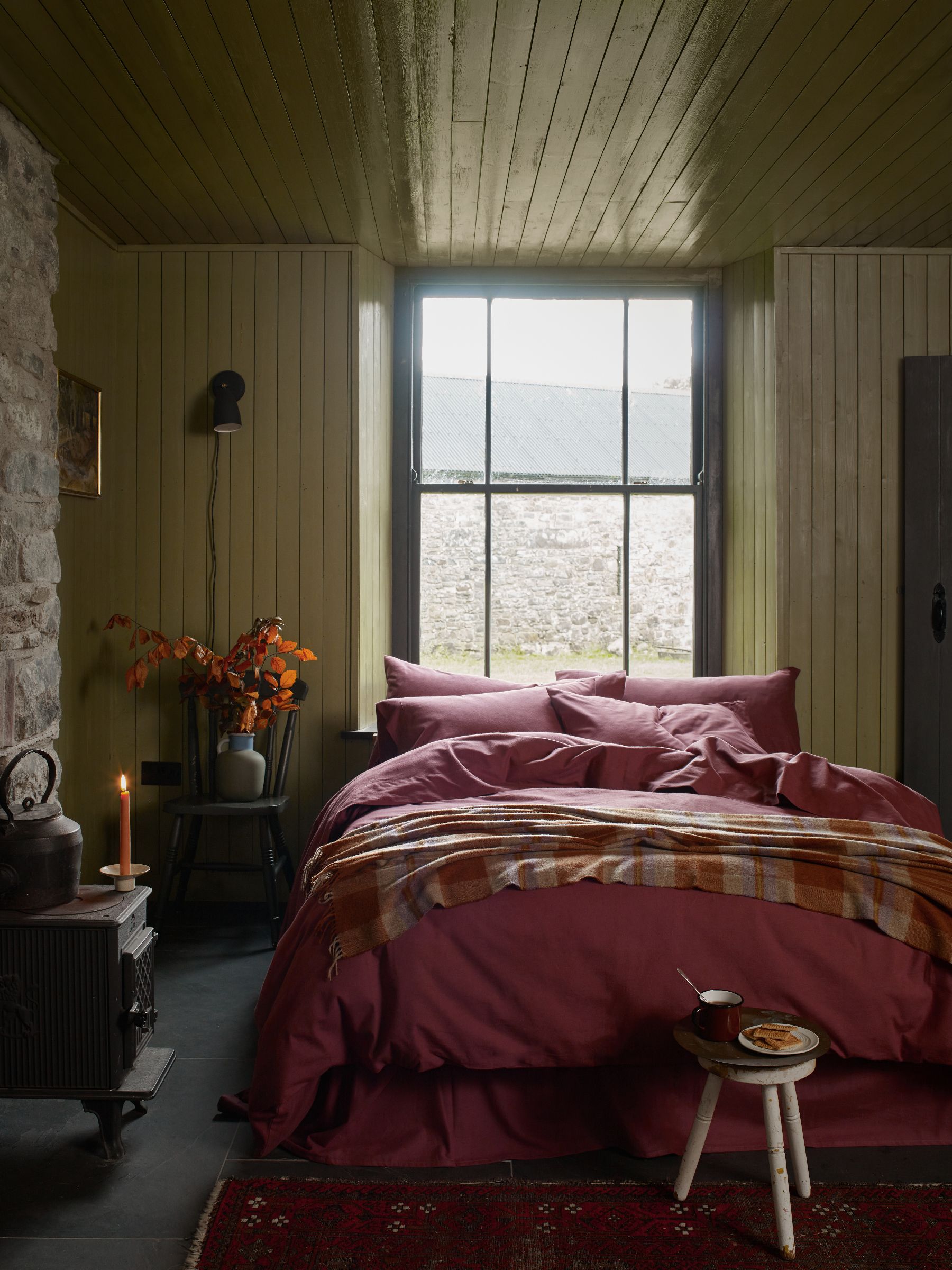 The ultimate winter sanctuary calls for plenty of bedding, quilts, and blankets to keep cozy. 'It's all about layers. Brushed cotton or linen sheets, merino wool duvets, and chunky knit blankets will not only look beautiful but also keep you nice and warm through the winter,' explains Jessica Hanley, founder of Piglet in Bed. As cold weather approaches it's also worth thinking about how to make bedding feel warmer, such as switching your duvet to a higher tog.
Switching up bedding from season to season is also a quick and easy way to add winter warmth through color and texture, too. 'Stick to an earthy color scheme, which often includes warm and rich tones like chestnut browns, fern greens, and more neutral oatmeals. These colors create a soothing atmosphere that's reminiscent of the outdoors,' adds Jessica Hanley.
'You can also choose to add pops of color to replicate those found in nature during the winter months, with deep berries and cranberry reds pairing particularly well with more earthy tones.'
9. Opt for carpet or rugs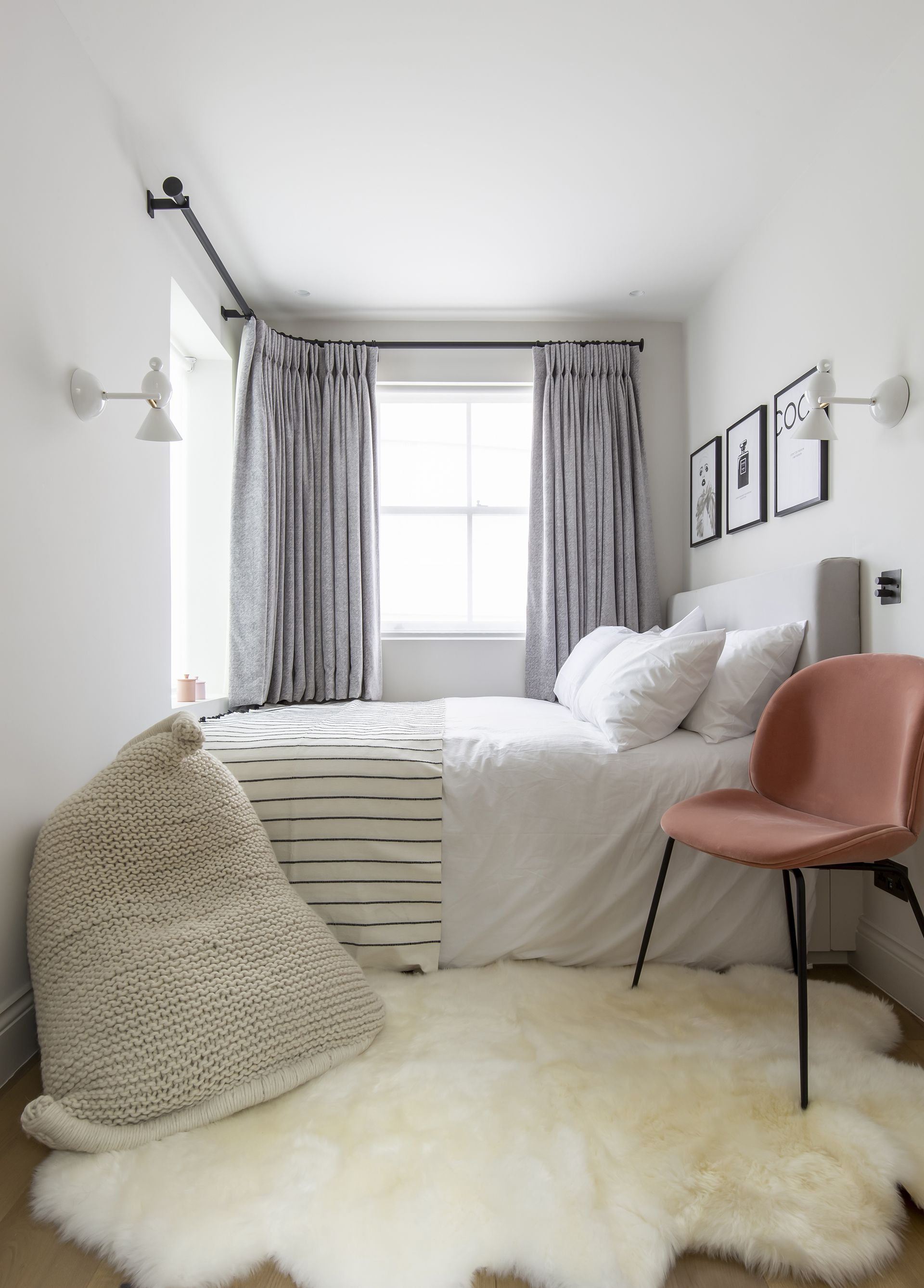 When it comes to bedroom flooring you can't beat fitted carpets for coziness. Not only do they add softness underfoot they help to insulate sound and add a layer of insulation essential in winter. While hard wood floors are beautiful and full of character, nobody wants to be stepping onto bare boards on a cold winter morning. If you do have a wood floor you want to preserve, be sure to layer plenty of deep pile rugs for comfort and softness. Sheepskin designs are guaranteed to bring an air of luxury.
10. Add an upholstered headboard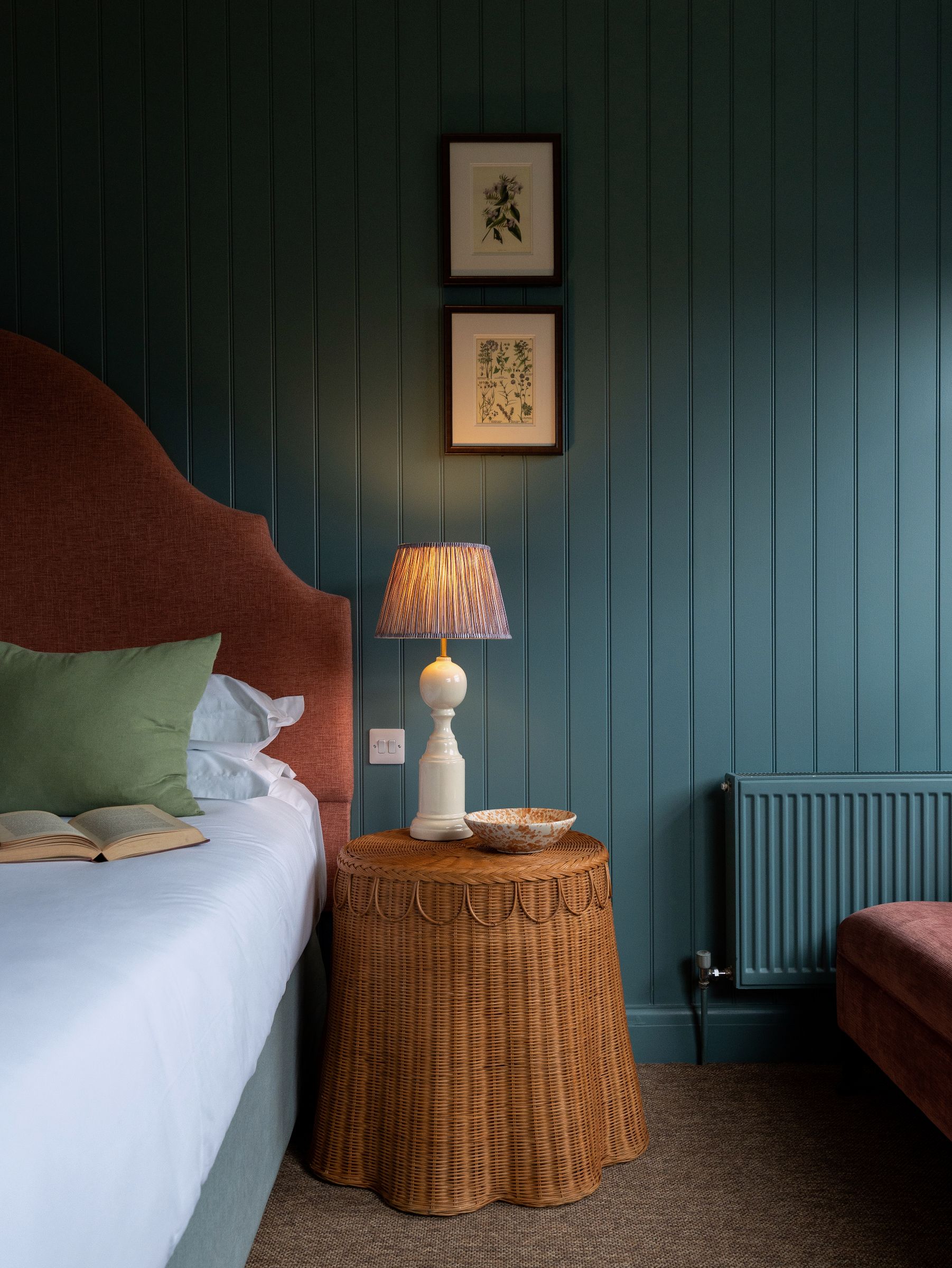 An upholstered headboard or bed frame can be wonderfully decorative and is a great way to bring texture and color into a room. Comfort-wise they make a cozy backdrop to lounge against on cold mornings but they also have the practical benefit of contributing to the thermal and sound insulation within a room. Here Louise Roe, founder of Sharland England chose rich paprika and navy tones to bring warmth and depth. 
'For me, coziness is created with the right mix of warm colors and rich textures,' says Louise Roe. 'So, an upholstered headboard, the wall paneling, and of course, I'll always turn to rattan to pull a room together. The color we use for Sharland England's rattan furniture is 'caramel' and the final touch will always be a pleated lampshade – soft, low lighting is a must!'
FAQs
How can I decorate my bedroom for winter?
There are lots of ways to decorate to make your bedroom feel cozy in winter. While decorating for one specific season can be a challenge, there are plenty of ways to make your bedroom feel warm and welcoming that appeals all year round, along with quick updates you can make when winter comes along to bring extra warmth and comfort. 
'We often use a few simple techniques to make a space feel cozy. First and foremost, the use of a neutral color scheme, utilizing shades that are found in nature, is important to make the environment feel natural and easy,' says Alexandra Azat, CEO and principal designer at Plaster & Patina. 'Next, we bring in soft textures, layering on soft bedding, high pile rugs, and luxurious fabric draping (even where there may not be a window). Finally, it is important to address the room; if a room is over-sized, it can be a good idea to use a slightly darker shade on the ceiling to make the room feel more intimate.'
When it comes to bedroom paint ideas, 'using various shades of the same color is a good way to transition from millwork to walls without making a sharp contrast, which softens the space and makes it feel more welcoming and easy to the eye,' adds Alexandra Azat. 
In addition to colors and materials, you cannot underestimate the power of a layered lighting scheme when it comes to creating a winter bedroom. 'Consider adding mood lighting around the room, I love to create a layered lighting scheme with understated picture lights bringing an extra layer of interest, highlighting a favorite artwork, and adding a charming touch to a bedroom,' adds  David Hunt lighting. 
Introducing extra cushions and throws is a must for any winter bedroom – think tactile, luxurious textures like chunky woolens, bouclé, sheepskin, and velvet. Switching accessories up from season to season with different materials and colors is an easy way to keep your space feeling in tune with the seasons all year round. 
How can I add warmth to my bedroom?
Opting for fitted carpet and thick curtains with a thermal interlining will instantly make a bedroom feel warmer as they will provide a layer of thermal insulation. Alternatively, if you have a hard floor, try a large deep pile rug. Factoring in plenty of lighting options will create a warm, glowing ambiance. Be sure to supplement ceiling lights with table lamps and soft wall lighting to create a relaxing zen bedroom mood and, if possible, have these wired so that they can be operated independently from beside the bed. 
For quick and easy updates you can't go wrong by having plenty of throws that you can layer onto the bed when the nights are particularly cold.
'If you don't have a mohair blanket at the foot of your bed, please get one right now,' says Annie Elliott, founder of Annie Elliott Design. 'Mohair throws add luxury and coziness to any room, whether on a bed or tossed over the arm of a lounge chair. Placid neutrals such as camel or stone are quietly classic, and the multi-colored plaids are joyful. A mohair throw elevates any room it's in, especially in a winter bedroom.'